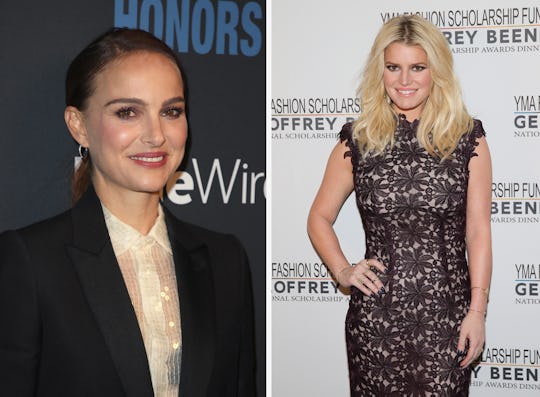 David Livingston/Getty Images Entertainment/Getty Images, Neilson Barnard/Getty Images Entertainment/Getty Images
Here's Why Both Natalie Portman & Jessica Simpson's Comments Are Important
Everyone has a role model — even celebrities. When Natalie Portman talked about her upcoming movie, she had a few surprising tidbits to share. One was that Madonna was her childhood role model. The other was that people like Jessica Simpson used to "confuse" her. Of course Simpson responded and then Portman had a rebuttal. And what happened in between is what social media is all about. Here's why both Natalie Portman's and Jessica Simpson's comments are equally important.
During an interview with USA Today, Portman talked about all the ways Madonna influenced her.
"I felt really lucky to have her as a little kid, because I saw someone who was brazen and disobedient and provocative and trying to mess with people and always changing — I thought it was a great thing to see in a woman growing up," Portman said.
But she then seemingly switched topics and spoke about how things were very confusing for girls during that time, stating that people like Jessica Simpson were an example of such confusion.
"I remember being a teenager, and there was Jessica Simpson on the cover of a magazine saying 'I'm a virgin' while wearing a bikini, and I was confused," Portman told USA Today. "Like, I don't know what this is trying to tell me as a woman, as a girl."
While Portman most likely mentioned Simpson as an aside — and an example — these comments did not go over well.
Simpson posted a heart-felt response to Portman on her Twitter feed, saying she was "disappointed" by her comments.
"I was disappointed this morning when I read that I 'confused' you by wearing a bikini in a published photo taken of me when I was still a virgin in 1999. As public figures, we both know our image is not totally in our control at all times, and that the industry we work in often tries to define us and box us in," Simpson wrote.
"However, I was taught to be myself and honor the different ways all women express themselves, which is why I believed then — and I believe now — that being sexy in a bikini and being proud of my body are not synonymous with having sex," Simpson added.
Simpson said she prides herself on being a role model and that girls can choose to be whomever they want.
"I have always embraced being a role model to all women to let them know that they can look however they want, wear whatever they want and have sex or not have sex with whomever they want. The power lies within us as individuals," Simpson said.
She ended her statement with a mention of the "Time's Up" campaign, noting that Portman has done quite a bit of work in that area.
"I have made it my practice to not shame other women for their choices. In this era of Time's Up and all the great work you have done for women, I encourage you to do the same," she said.
Simpson has been in the limelight for many years, and while she might have heard such comments before, this time was different. It was coming from one of her peers.
It's likely that Portman intended no ill will towards Simpson and was simply stating her feelings at the time as a confused girl, unsure of what she was being told to be. Portman responded directly to Simpson's social media post saying:
Thank you for your words. I completely agree with you that a woman should be allowed to dress however she likes and behave however she likes and not be judged. I only meant to say I was confused — as a girl coming of age in the public eye around the same time — by the media's mixed messaged about how girls and women were supposed to behave. I didn't mean to shame you and I'm sorry for any hurt my words may have caused. I have nothing but respect for your talent and your voice that you use to encourage and empower women all over the globe.
Wouldn't it be nice if everyone could just apologize or try and understand what another person is going through? Bravo to Portman for stepping up. Both of these messages were important, however, so it's great that they were able to have this conversation publicly. Yes, women should be able to be anything they want to be, but, unfortunately, there's also little doubt that society also sends messages about what sorts of things might be "better" than others.
Here's hoping Simpson and Portman can make amends. Both are moms and have little women of their own for which to be examples. And in this day and age, girls can never have enough good role models.