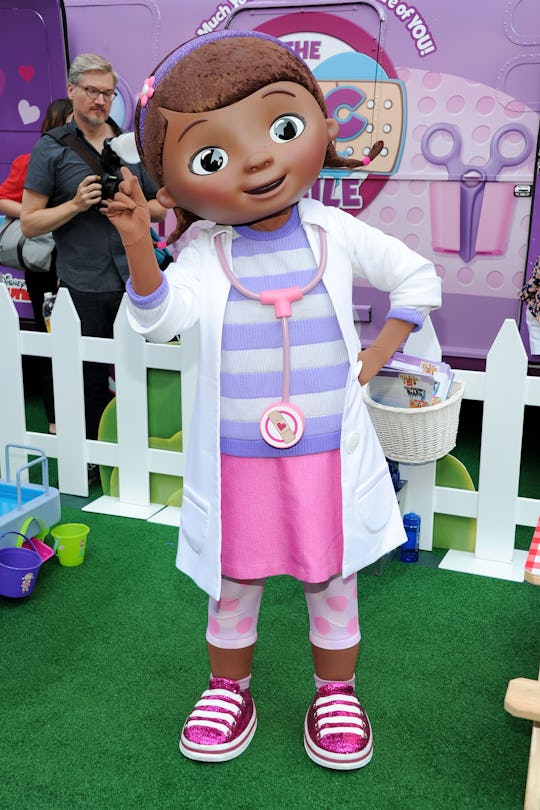 Ben Gabbe/Getty Images Entertainment/Getty Images
Here's Why 'Doc McStuffins' Not Being Renewed Is Such A Big Deal For Parents
When children love their cartoons, they love them with all their heart. So when a popular TV show goes off air or suddenly disappears from their television, it can be hard to move on from such things. Doc McStuffins is one of these beloved characters whose life might be cut short due to Disney not yet renewing the show and parents are upset. But there is a good reason why Doc McStuffins not being renewed is such a big deal for parents.
For those of you who have not been tuning in to Disney Junior's biggest show, heres a rundown. Doc McStuffins is a young black girl who is a doctor for her toys. According to Disney, "Doc's backyard playhouse becomes her clinic where she uses her special ability to communicate with toy friends to help them when they have physical or emotional bangs and bruises."
Not only is the show Disney's only cartoon with a black female lead, but the show shows young girls that women can be in positions of power, like doctors. It is also important to note that the show teaches children a very important lesson in bravery and courage. While the doctor's office can oftentimes bring up images of shots or sickness for children, Doc McStuffins teaches and walks children through exactly what is going on at the doctor's office — and lets them know that there is nothing to be afraid of.
But as of June 6, according to Doc McStuffin's creator, Chris Nee, the show has not been renewed for a fifth season despite other reported with less than forward statements from the Disney Channel.
With the #RenewDocMcStuffins on Twitter, parents and celebrities from all over the world have highlighted exactly why not renewing the show is such a big deal for them but their children as well.
The Guardian reported that the show has alleviated anxiety for children who attend doctor's appointments and find Doc to be an inspiration. Even the City Council of Atlanta, Georgia authored a resolution to urge Disney to keep the show at a recent City Council Meeting. "I can tell you as the mother of four children and an African-American daughter, it is difficult to find positive role models that my daughter can see herself in," Atlanta council member Keisha Lance Bottoms said. "When I hear my daughter say she wants to be a doctor or veterinarian I know it is because of this show."
It seems, at this point, the loss of the show could be devastating for children everywhere. However, fans of Doc should not be worried, just yet. Season Four of Doc McStuffins is currently in post-production and will begin to air this month and continue to air until the start of 2018. According to a statement by Chris Nee on her Twitter, Disney typically does not do five seasons for shows. Therefore, Nee believes that Season Four might be the end of the line for the show.
However, parents and their children can be reassured that they will have plenty of new Doc McStuffins episodes in their lives until 2018.