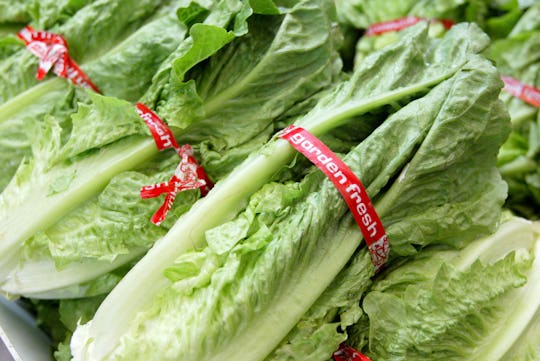 Justin Sullivan/Getty Images News/Getty Images
Health Officials Are Warning People To Avoid Romaine Lettuce For A Terrifying Reason
Data shows that the New Year's resolution that almost everyone puts on the top of their list is to "get healthy." But there is some unfortunate news for every person (like myself) who threw away the junk in their refrigerator and replaced it for fresh vegetables at the beginning of 2018. And there's one fresh veggie you'll want to be cautious of because as of this week, health officials are warning people to stay away from romaine lettuce after concluding that it was likely linked to dangerous strain of E. coli bacteria that's caused dozens of people to fall ill.
Over the past seven weeks, according to Consumer Reports, people have been getting sick from the leafy green and it is a serious cause for concern. In fact, 58 people in the United States and Canada have gotten sick from a "serious strain of E. coli bacteria," according to Consumer Reports, and it is likely that they got this strain from E. coli from eating romaine lettuce (officials in Canada have confirmed this while health officials in the United States are still investigating the source of illness).
This illness is so serious that it has left five people in the United States hospitalized and one person has even died, according to Consumer Reports. This isn't your opportunity to ignore authority; this time E. coli is a real threat.
This E. coli outbreak has been reported in 13 states, according to the Centers for Disease Control and Prevention: California, Connecticut, Illinois, Indiana, Michigan, Nebraska, New Hampshire, New York, Ohio, Pennsylvania, Virginia, Vermont, and Washington.
But it is important to note that no product recalls have been issued yet — meaning right now, officials are only suggesting people to stay away from eating romaine lettuce, just in case. It is also possible, according to Consumer Reports, that the individuals who got sick from eating romaine lettuce were reportedly not healthy at the time they ate it. But if officials are telling consumers to avoid eating romaine lettuce, even romaine purchased in boxes and bags, then you should probably consider their warning.
"Even though we can't say with 100 percent certainty that romaine lettuce is the cause of the E. coli outbreak in the United States, a greater degree of caution is appropriate given that romaine lettuce is almost always consumed raw," Dr. James Rogers, the Director of Food Safety and Research at Consumer Reports said in a press release. Not even triple washing your romaine lettuce will help, according to Consumer Reports, because E. coli can cling to nooks and crannies inside the lettuce leaf.
As previously stated, E. coli isn't necessarily something that you want to mess with. There are a few forms of E. coli that can cause serious harm, according to NBC News. And a toxin produced by E. coli can cause symptoms like severe vomiting, stomach cramps, and bloody diarrhea. Young children, older adults, and people with weakened immune systems are more likely to become ill from ingesting E. coli, according to the Mayo Clinic. It takes a normal, healthy adult around a week to get over their infection, according to the Mayo Clinic, but it can take children and elderly people even longer. If this can be avoided, then it only makes sense to take extra precaution until health officials figure get this problem under control.
But there is some good news; there are other leafy greens that you can eat that haven't been linked to an E. coli outbreak this year — just romaine is the one to avoid for the time being. It might be a little inconvenient to avoid eating romaine lettuce or making sure it's not in any of your take-out, but it will certainly be worth swapping.
Check out Romper's new video series, Romper's Doula Diaries:
Watch full episodes of Romper's Doula Diaries on Facebook Watch.