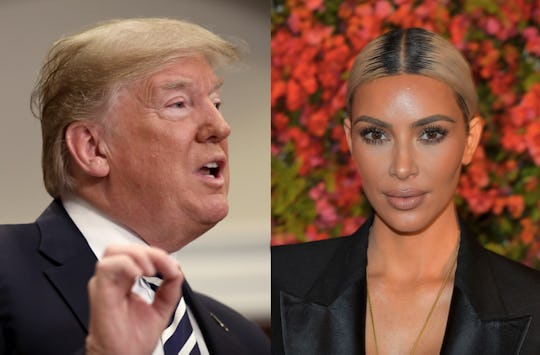 Win McNamee/Getty Images News/Getty Images; Charley Gallay/Getty Images Entertainment/Getty Images
Kim Kardashian Is Meeting With Trump For A Surprisingly Important Reason
By now, you'd think we should all be at the point where nothing about President Donald Trump or his administration should be a surprise. And yet, the news that Kim Kardashian is actually scheduled to have a meeting with the president and his advisor, Jared Kushner, Wednesday has left many people scratching their heads. Although at first blush it seems like the only thing the two would have in common is the fact that reality television boosted both of their careers in a major way, the actual reason behind their meeting is much more serious. Here's why Kim Kardashian is meeting with Trump, according to insiders (spoiler alert: it actually doesn't have anything to do with Kanye West).
Kardashian may be a lot of things, but few people would likely peg her as an advocate for prison reform. Yet over the past few months, Kardashian and Kushner have reportedly been in contact to discuss the issue, according to Vanity Fair, and on Wednesday afternoon, the reality star is actually expected to ask the president to issue a pardon to Alice Marie Johnson, a 62-year-old woman serving a life sentence without parole for a first-time, non-violent, drug offense.
Kardashian and her attorney are set to meet Kushner at the West Wing, before meeting with the president and White House counsel in the Oval Office. But don't expect to see the meeting on an upcoming episode of Keeping Up With The Kardashians: presumably in effort to keep things as professional as possible, Vanity Fair noted that Kardashian won't be bringing reality TV cameras along, nor any of her famous family members. Instead, it sounds like she intends to put her celebrity status aside and summon her inner activist to push for Johnson's release.
In a sit-down interview with Mic co-founder Jake Horowitz earlier this month, Kardashian explained how she first heard about Johnson, and why she ultimately decided to get involved. Perhaps the first detail of this story that isn't actually surprising? Kardashian told Horowitz that it all came down to social media: after she came across Mic's October 2017 video featuring an interview Horowitz did with Johnson from prison in Alabama, she felt compelled to fight for the great-grandmother — who has now spent more than 20 years in federal prison — believing that she deserves a second chance. Kardashian said,
[W]hen I see a story like hers, and I go back to maybe decisions we've all made that probably — maybe not at that caliber — but if you think about a decision that you've made in your life, and you get life without the possibility of parole for your first-time, non-violent offense, there's just something so wrong with that.
In the original Mic video, Johnson told Horowitz that she "became involved in a drug conspiracy" after she lost her job and began "struggling financially" — a decision she now says was "one of the worst decisions of [her] life to make some quick money." Johnson was ultimately sentenced to life in federal prison, yet as extreme as that may sound, Mic noted that it's not exactly uncommon: more than 3,000 people are currently serving life sentences with no chance of parole for non-violent offenses, the majority of whom are black, and who, like Johnson, have been charged with drug-related offenses.
Now 21 years into her sentence, Johnson said she's missed the births of her grandchildren and great-grandchildren, and that a family member once told her that "coming to visit [her] in prison is like visiting a grave site" because they know she'll never come home. But Johnson said that even though she's "had 100 [percent] clear conduct" behind bars, and "no disciplinary infractions" whatsoever — and that she even had letters from prison staff and members of Congress attesting to her eligibility for clemency — she was ultimately not included in a group of 231 individuals President Barack Obama pardoned in 2016, and was never given an explanation as to why.
That reality didn't sit well with Kardashian, and though her seemingly-uncharacteristic transformation into a prison reform advocate surprised many of her fans, the mom-of-three says she ultimately came to the realization that she wanted to change her focus from using her wealth and influence for herself and her glamorous lifestyle, and towards helping others. She told Horowitz,
I mean, in all honesty, how I felt [was that] to go and spend my money buying material things just doesn't satisfy me the way that it used to. I'm just in a different place in my life, so I thought, 'Well, if I could put the money into a shopping spree' — which sounds ridiculous — 'to save someone's life, and do that once a year, then that would make ... my heart fuller.'
That change of heart definitely seems to be working out in Johnson's favor, and now, she may finally have her chance to be pardoned thanks to Kardashian and her legal team. Yet while Trump does seem to be a fan of welcoming celebrity support — he notably praised Kardashian's husband on Twitter recently, after the rapper came out as a vocal Trump supporter — there are a few sticking points that might make Kardashian's fight on behalf of Johnson a little bit tricky. For one, despite Kardashian and Kushner appearing to see eye-to-eye about prison reform, the Trump administration as a whole doesn't appear to agree: in fact, according to Vanity Fair, one of Attorney General Jeff Sessions' first acts in the Trump White House was to "[rescind] an Obama-era memo that increased leniency for low-level drug offenders," and instead supported federal prosecutors in pushing for stricter punishments.
Of course, Trump doesn't hesitate to criticize his own administration — in fact, on Wednesday the president admitted on Twitter that he "wish[ed]" he'd picked someone other than Sessions for the Attorney General role, according to CNN — so it's still entirely possible that Trump could agree to Johnson's release after meeting with the reality star. But on a more personal level, there's also the fact that Kardashian actually endorsed Trump's political rival, Hillary Clinton, in the 2016 election: in a September 2016 interview, according to Entertainment Tonight, she said she "[believed] Hillary will best represent our country and is the most qualified for the job." That might be an issue for Trump, who often emphasizes the importance of loyalty — but thanks to West's recent admiration of the president, he may have already let go of any hard feelings towards his wife.
As bizarre as it might seem to consider that Kardashian is set to sit down with the POTUS, not as a celebrity, but as an activist, it actually sounds like her influence as a public figure could lead to some really meaningful change. And while there will certainly be many people offering their support to Kardashian ahead of her meeting with the president, there likely won't be anyone hoping for a successful outcome more than Johnson herself, and her family.