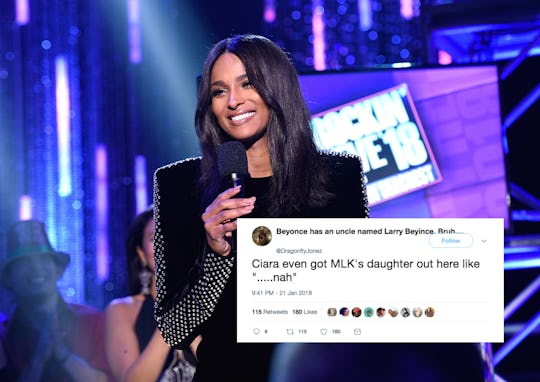 Kevork Djansezian/Getty Images Entertainment/Getty Images
Here's Why People Are Pissed At Ciara's Twitter Advice To Single Women
Ciara and her husband, Russell Wilson, definitely appear to have an beautiful celebrity love story. Though the singer endured a tumultuous breakup from her former fiancé, Future, in 2014, she soon fell hard for the Seattle Seahawks quarterback, and by the end of 2016, the couple had not only tied the knot (in a fairytale wedding held in an actual castle in England, no less), they were also expecting a baby together. To their fans, Ciara and Wilson are the epitome of #relationshipgoals, but here's why people are pissed at Ciara's Twitter advice suggesting that single women need to "level up" if they want to get married.
One thing that clearly meant a lot to the couple from the start of their relationship was their shared Christian faith — so much so, in fact, that they made a point to abstain from sex completely during their whirlwind courtship. Now a family of four (their daughter, Sienna Princess Wilson, was born in April 2017, according to People, just a few months shy of the couple's first wedding anniversary), it's clear that religion has continued to be an important element in their marriage. But on Saturday, Ciara tweeted a video from a church sermon given by South Carolina pastor John Gray in 2016, and, well, not everyone was on board with his take on finding a mate.
In the clip, Gray addresses his "single sisters" who are wondering when they will find the husband they've been praying for. He explains that scripture tells them, "he who finds a wife finds a good thing," but that the usual pattern of looking for someone you're attracted to and then dating them with the hope that it might turn into marriage is where things go awry:
It didn't say, 'He that finds a girl that he's attracted to, who he then begins to date, who he then calls his girlfriend, who he then buys a ring, proposes to and makes her his fiancée, who he then marries later who becomes his wife.' You're not a wife when I marry you, you're a wife when I find you.
Gray then went on to say that, in order to find a husband, women need to act like a wife before their partner comes along:
A wife is not the presence of a ring, it's the presence of your character. Too many women want to be married, but you're walking in the spirit of 'girlfriend.' Ask the Lord to deliver you from that spirit, and carry yourself like you're already taken. And I promise you, when you carry yourself like a wife, a husband will find you.
Ciara shared the clip on Twitter along with the caption, #LevelUp, leading many to interpret the clip as Ciara suggesting it was her own "leveling up" and decision to assume a "wifely character" after her breakup that allowed her to find a doting and loving husband like Wilson.
To some, that message was helpful, solid advice. But many of the users who responded to Ciara's tweet were definitely less than impressed with the pastor's words. For one, they argued that Gray's advice was condescending towards single women, talking to them as though finding a husband is the ultimate goal, or somehow a reward for good behavior:
Others saw the post as being an unnecessarily judgmental take from the singer now that she's happily married — particularly given the heartbreak Ciara herself experienced in the past:
But in the wake of the backlash, many fans came to support the singer, arguing that all she was really saying was that women should value themselves more:
On Sunday, Ciara opted to address the debate her tweet had stirred up, and in her message to fans, she wrote that she saw Gray's words as a call for her to live her best life for herself and her son, and that it was helpful advice regardless of her marital status. She wrote,
I was once that girl wanting to be loved a certain way, but was making the wrong choices. I found myself at my lowest moment. I was a single mom sitting at home, and I then realized that the perfect love I was looking for was how God loves me, how He wants me to be loved, and who He was calling me to be as a mom and a woman. That's when I realized married or not married ... I needed to love myself. #LevelUp
As much as Ciara's words haven't exactly sat well with many people on social media, it at least seems that her intention was just to share a message that she herself found valuable in a difficult time in her life. But while Gray's words may have resonated strongly with her, the arguments against his message definitely shouldn't be ignored. Although there's nothing at all wrong with self-improvement, or desiring to love yourself more, finding a loving partner shouldn't have anything to do with worthiness, or accomplishment. Although Ciara may have found a great husband in Wilson, the reality is that she wouldn't be any less deserving of love or happiness if she were single, regardless of what her pastor may believe.
Check out Romper's new video series, Romper's Doula Diaries:
Watch full episodes of Romper's Doula Diaries on Facebook Watch.