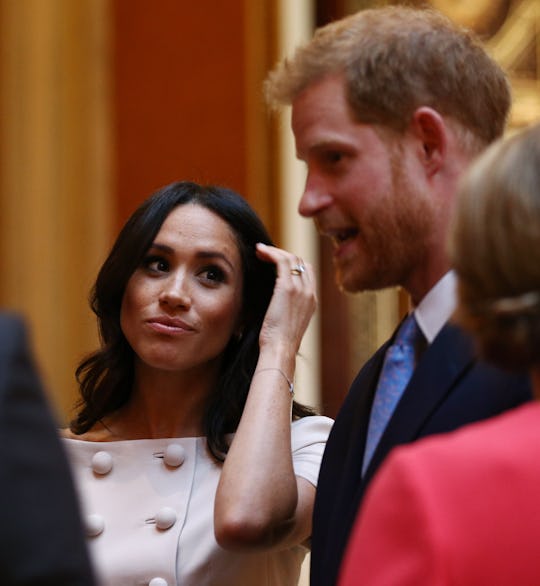 WPA Pool/Getty Images News/Getty Images
This Is The Real Reason The Duke & Duchess Of Sussex Don't Hold Hands
Ah, to be young and in love. Truly, there's nothing quite like it. And especially when you're a newlywed still in your honeymoon phase, it can be hard to reign in the PDA. So, you can imagine that the new Duke and Duchess of Sussex probably want to spend as much time together as possible. However, if you've seen them together while at public appearances, you might have noticed that the couple doesn't always show PDA. So, here's why Prince Harry and Meghan Markle don't hold hands, at least not in front of the queen.
Yes, Prince Harry and Markle, who were married just over a month ago at St George's Chapel at Windsor Castle, have been pretty busy since becoming husband and wife. And while royal spectators have enjoyed getting to see the happy couple out and about so often, they've noticed that the two aren't too touchy-feely when Prince Harry's grandmother, Queen Elizabeth II, is around.
In fact, as one royal spectator pointed out, at the Young Leaders Reception on June 26 that took place at Buckingham Palace, there was a blink-or-you'll-miss-it moment when Markle reached for her husband's hand and, according to People, Prince Harry quickly put his own hands together to avoid the display of affection in front of his grandmother.
But, the thing is, Markle and Prince Harry aren't really supposed to hold hands in front of the queen. While it isn't forbidden, and they won't get shipped off to the Tower of London for doing so, it's definitely not encouraged. As royal expert Gyles Brandreth told People, Queen Elizabeth and her husband, Prince Philip don't like to hold hands because of their "stoic values," and so when younger couples are in the queen's presence, they're less likely to hold hands out of respect.
But, that doesn't mean that Prince Harry and Markle aren't still totally all over each other at other occasions. Well, "all over each other" might be a bit of an exaggeration, but still. You get the point. In fact, as royal expert Myka Meier told People on the matter of the Duke and Duchess of Sussex holding hands,
There is no protocol that says they can not show affection on official engagements, and this gesture makes them relatable and lovable to the public.
So really, it seems as though Prince Harry and Markle holding hands might just be a welcome sign that the people of the Commonwealth are excited to see.
Additionally, as Meier explained to People,
It is rare to see royal couples holding hands on official outings. While we are much less likely to see The Duke and Duchess holding hands in public, we often see Prince Charles and The Duchess of Cornwall holding hands – it's all simply a matter of preference for each couple and is also likely dependent on the nature of the event they are attending. A more serious engagement would warrant a more serious level of professionalism, which each royal is sure to follow.
So really, it isn't as if the queen despises PDA, but rather that her grandchildren acknowledge and respect the fact that she's a little more old-fashioned. And that's completely OK. After all, when you're a 92-year-old who just so happen to be the longest-reigning monarch ever, you kind of earn the right to have people watch themselves around you.
But, as Prince Harry and Markle head off on their first foreign trip together in Ireland, it's likely that photos of the newlyweds holding hands will appear. But whether or not the two decide to hold hands or show some other kind of affection is beside the point. What matters is that the two are happy and have a good time as a married couple.