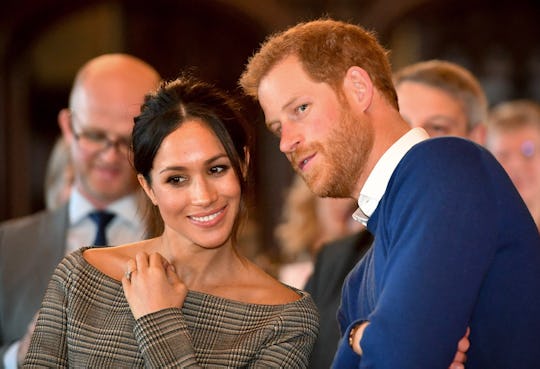 WPA Pool/Getty Images Entertainment/Getty Images
Here's Why Prince Harry & Meghan Markle's Kids Probably Won't Be Princes & Princesses
With a royal wedding right around the corner, some fans are already wondering about little royal babies. But, if Prince Harry and Meghan Markle have kids, they probably wouldn't be little princes and princesses, according to The Independent. So, for those of you hoping for a Prince Harry Jr. — well, you could be out of luck.
Any children born to Markle and Prince Harry while the Queen is alive, as The Independent reported, would be known as a lord or lady, unless the Queen says otherwise. This is because Prince Harry's great-great-grandfather, King George V, issued a Letters Patent in 1917 that stated:
The grandchildren of the sons of any such Sovereign in the direct male line (save only the eldest living son of the eldest son of the Prince of Wales) shall have and enjoy in all occasions the style and title enjoyed by the children of Dukes of these Our Realms.
Therefore, Prince Harry and Markle's potential offspring would be called Lord or Lady, followed by their first name, then a place of origin such as Mountbatten-Windsor, according to The Independent. For example, if the couple had a son named Charles, the boy's title could be Lord Charles Mountbatten-Windsor. Or, let's say, if the couple had a daughter who they named Diana her title could be Lady Diana Mountbatten-Windsor. You get the idea?
The queen could issue a new Letters Patent to change this and, according to The Mirror, she did just that for Prince William and Kate Middleton's children, 4-year-old Prince George and 2-year-old Princess Charlotte.
Markle and Prince Harry's wedding date is set for May 19 of this year and fans may be wondering what kind of titles the happy couple will take once they're married. European Royal History reported that the Queen often has a tradition of granting a member of the royal family a title of Nobility on the day of their wedding. Prince William was granted the Duke of Cambridge at his nuptials, according to The Washington Post. There is also a possibility that the couple could be given a lesser title like Earl or Marquess, since Prince Harry is currently fifth in line to the throne. And, after Prince William and Middleton's third child is born in April 2018, Prince Harry will be sixth in line to the throne, as reported by The Telegraph.
Once the Queen abdicates her throne or passes away, according to The Sun, Prince Charles would take the throne, followed by his eldest son Prince William, the Duke of Cambridge. Next in line would be Prince William's children Prince George, Princess Charlotte and the new, unborn royal baby. And, should Prince William and Middleton decide to add any more little ones to their family, those children would also be in line to take over the throne, ahead of Prince Harry. E! News reported that Prince William and Middleton's third child's due date is in April 2018, one month before the royal wedding.
Prior to even meeting Markle, in 2012, Us Weekly reported Prince Harry gave an interview about wanting children on ABC News. Prince Harry stated at the time:
I've longed for kids since I was very, very young. I'm waiting to find the right person. Someone who is willing to take on the job.
Fast forward to present day, when would Markle and Prince Harry be planning to have children? After their engagement was first announced, Town & Country reported that Prince Harry revealed during the couple's first interview following their engagement with the BBC that it could very well happen in the future. "I think eventually ... one step at a time ... and we'll start a family in the near future," he said, according to the magazine.
So, it definitely sounds like there could very well be more royal babies in the near future. Unfortunately, they may not share the same titles as their cousins.
Check out Romper's new video series, Romper's Doula Diaries:
Watch full episodes of Romper's Doula Diaries on Facebook Watch.