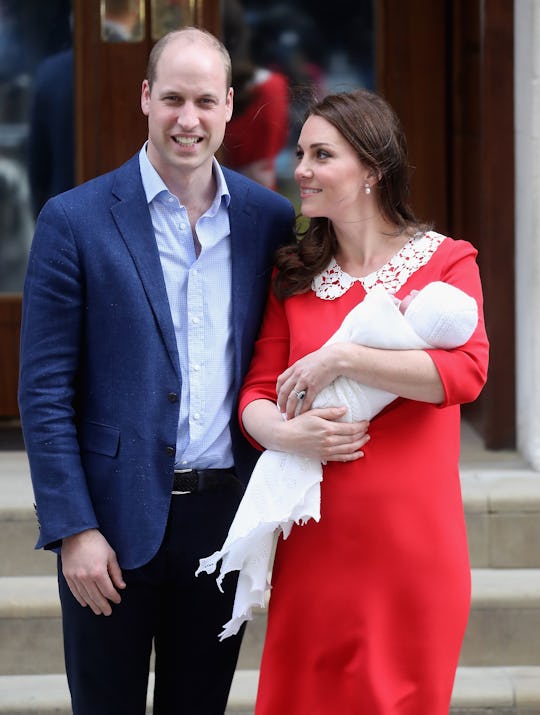 Chris Jackson/Getty Images Entertainment/Getty Images
Here's Why Prince William & Kate Middleton Might Not Have A 4th Kid
Despite the fact that it's only been just a little over two weeks since Prince Louis was born, people are already wondering what's next for the royal family. Understandably, the fanfare around royal births is exciting, and it's likely with good intention that people are wondering whether there will be another prince or princess to gush over. However, this is why Prince William and Kate Middleton might not have a fourth kid, despite speculation that they would.
A "source" shared with Us Weekly that the pair are "absolutely thrilled with having three" children. "They are soaking up every minute they can. Their dream was always to have three kids. Kate knew she wanted a third not long after having Charlotte, but this time around they seem very content," they said. As for whether they're going to have more? The source added: "Never say never!"
Previously, people had speculated that Kate might emulate the queen and have four kids. Others argued that, given the health complications (specifically, hyperemesis gravidarum, or severe morning sickness) she experienced with George, Charlotte, and Louis, she may be finished. A source told People: "I can't imagine Kate will want any more given the ordeal that she goes through every pregnancy. I should think that three children is enough." In all three of her pregnancies, she was hospitalized for the condition.
Regardless of whether Will and Kate do have plans to add to the royal brood, it's a little weird to speculate or badger the family about another child a handful of weeks after she just gave birth to her third. Livestrong reported that the standard advice is to wait 18 months before getting pregnant after giving birth. However, it largely depends on each person's medical needs. "Giving your body proper time to heal is important before getting pregnant again, but your personal circumstances dictate when you should try for the next baby," according to Livestrong.
But regardless of the medical aspect, Kate's existence isn't solely to deliver royal kin. She might have other ambitions that she wants to tend to before trying to conceive again, such as adjusting to life with three little kids, which is no small or easy feat in itself.
Regardless, fans know that Kate considers motherhood a privilege. People reported that Peter Fonagy, head of the Anna Freud National Centre for Children and Families, said she "feels it's an incredible privilege to be a mum." In the same article, Sarah Dixon, a former maternity nurse who has worked with the royal family, shared a little bit about how they were preparing for the birth of Louis. "The family will be doing all they can to talk about the new baby and get the children as involved as possible," she said. "... including them assisting with nursery decoration and choosing toys for the new arrival."
Whether they do or whether they don't have another, it's beyond clear that Will and Kate are already amazing parents. Vogue reported that they are very emotionally intelligent and want to "break tradition" in their parenting by ensuring their kids can be self-expressive and have their feelings heard. Will said:
Catherine and I are clear that we want both George and Charlotte to grow up feeling able to talk about their emotions and feelings. Over the past year we have visited a number of schools together where we have been amazed listening to children talk about some quite difficult subjects in a really clear and emotionally articulate way —something most adults would struggle with.
Be that as it is, it would be absolutely amazing if they had more kids... and just as amazing if they decided they wanted to cap out at three. Either way, the world has two princes and a princess to watch grow up, and TBH, that should be enough.