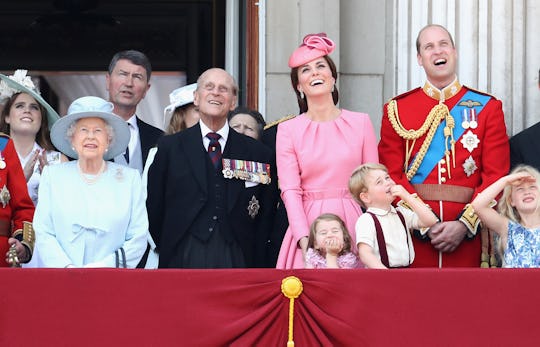 Chris Jackson/Getty Images Entertainment/Getty Images
There's A Very Cute Reason The Royal Family Is Laughing In That Candid Portrait
The royal family is known for being prim and proper, but that's expected when all eyes are on them... all the time. Because of this, people were a little surprised to see the royal family let loose and be a bit more candid in their newest family portrait. And in case people were wondering why the royal family was laughing in possibly their sweetest portrait yet, they now have an answer: the royal clan was cracking up over some seriously funny jokes.
One week ago, the royal family released a gorgeous family portrait in honor of Prince Charles turning 70 years old this month. In the photo, the future King of England is seen with his wife, Duchess Camilla, and his two sons, Prince William and Prince Harry, and their respective wives, Kate Middleton and Meghan Markle. Although the adults look lovely in the photo, Prince William's kids really stole the show. Prince George, Princess Charlotte, and Prince Louis could not look any happier to be sitting still for a portrait. This is a change from the other portraits they've been in where they've been photographed with a straight face.
The most noteworthy thing about this photo, however, is the smiles on everyone's faces. And according to Us Weekly, the family was smiling for one reason in particular: the royal kids' nanny was trying to get the family to laugh.
A source told Us Weekly that Nanny Maria was reportedly standing next to the portrait photographer, Chris Jackson, making silly faces and waving her hands to "get their attention." Instead, she got the entire family to break out in a wave of giggles. And it's a good thing that she did; the final photo shows the royal family looking so happy and, well, just in the moment.
And this sure seems to confirm that Nanny Maria is pretty much a magician. Royal nanny Maria Teresa Turrion Borrallo joined the royal family in 2014 when Prince George was 8 months old, according to Town & Country, and has been with the family ever since. She's wrangled the kids at countless weddings, lives with them in Kensington Palace and most importantly, according to Us Weekly, she lets the kids be themselves.
Needless to say, this candid portrait is one that will be treasured for years to come.
As more information surfaces about the photos, it's clear just how special these portraits are. For instance, according to People, Prince Harry and Markle knew that they were expecting their first child at the time the photo was taken, but the news of the Duchess of Sussex's pregnancy hadn't been made public yet. It's this kind of secrecy that makes the smiles on Markle and Prince Harry's faces all the more genuine, right?
Because the royal family is pretty strict with their rules, it's so nice to see this candid and giggly side of them. And thanks to Nanny Maria and her reported silly faces, royal watchers got to see the royal family in a way they never have before.