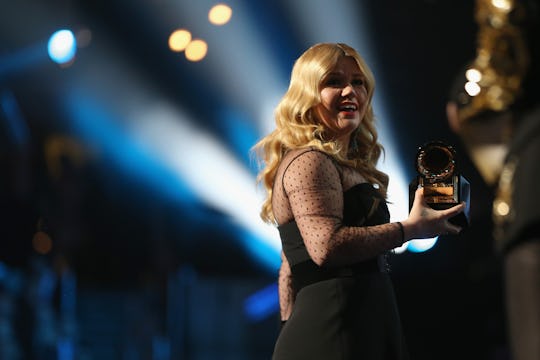 Christopher Polk/Getty Images Entertainment/Getty Images
Here's Why You'll See Celebrities Wearing White Roses At The 2018 Grammy Awards
At the 2018 Golden Globe Awards, celebrities flooded the red carpet in head-to-toe black attire to support the Time's Up movement. And this is exactly why you'll see celebrities wearing white roses at the 2018 Grammy Awards as well, according to Glamour. For the Golden Globes, celebrities walked the red carpet in black dresses and suits, wore enamel pins with the Time's Up logo and even brought advocates to the event as their guests. At this year's Grammy Awards, celebrities will make another symbolic gesture with white roses pinned to their outfits for the same reason.
Launching soon after the #MeToo movement, the Time's Up initiative is an organization that was started by 300 women in the entertainment industry, who aim to raise awareness and put a stop to sexual misconduct in the workplace, promote equal pay across all industries, and eliminate the Hollywood "casting couch," according to the movement's website. According to TIME, some of the prominent women who are founders of Time's Up include Reese Witherspoon, Jennifer Aniston, and Shonda Rhimes.
Taking its impact to the Grammy Awards, two music industry executives named Meg Harkins and Karen Rait put together the white rose statement of unity for the Grammys, telling told Billboard that they were inspired by the Time's Up blackout at the Golden Globes. Harkins and Rait are part of a newly formed group called Voices in Entertainment, according to HuffPost.
Those who want to show their support for the movement are encouraged to pin small white roses to their dresses or to the lapels of their suits, according to Glamour, in order to indicate they "stand in solidarity with the movement." Some of the celebrities who have signed up to wear white roses on the red carpet include Halsey, Kelly Clarkson, Cyndi Lauper, Dua Lipa, and Rita Ora, according to HuffPost.
So, why the color white? Harkins told Billboard that it is a practical and symbolic color. She explained that Hillary Clinton's wearing white at Donald Trump's presidential inauguration is just one example of why the color white was chosen to symbolize the demonstration. At the time of the inauguration, Vanity Fair reported that Clinton's color choice was no coincidence, as white was one of the colors worn by the suffragettes in the early 20th century, to promote purity and protect them from their opponent's claims of immorality.
In an official letter released by Voices in Entertainment, the group explained their choice of the white rose, their vision and their solidarity with the Time's Up movement, writing that:
We choose the white rose because historically it stands for hope, peace, sympathy and resistance. Please join us in support of equal representation in the workplace, for leadership that reflects the diversity of our society, workplaces free of sexual harassment and a heightened awareness of accountability that our sisters started on January 1st and continued through the Golden Globes and onward.
The Time's Up initiative came about on Jan. 1, 2017 and, in less than a month, millions of dollars have been raised. In fact, the movement has all ready raised nearly $19 million of its $19.5 million goal. Many big celebrities have donated to the cause, such as Meryl Streep and Taylor Swift. But, anyone can donate to the Time's Up movement through its GoFundMe page. Money contributed to the Time's Up movement will be put towards a legal defense fund that will advocate for legislation and provide legal representation for people who've experienced sexual harassment in the workplace.
"Powered by women, TIME'S UP addresses the systemic inequality and injustice in the workplace that have kept underrepresented groups from reaching their full potential," the initiative notes on its website, adding:
No more silence. No more waiting. No more tolerance for discrimination, harassment or abuse. TIME'S UP.
From a red carpet draped in black gowns at the Golden Globes to white roses pin on these stars' attire at the 2018 Grammy Awards, it's clear that this movement is only getting started.
Check out Romper's new video series, Romper's Doula Diaries:
Watch full episodes of Romper's Doula Diaries on Facebook Watch.