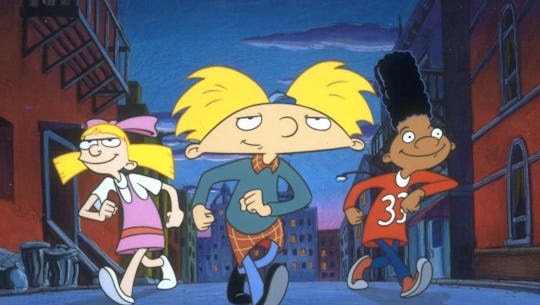 Nickelodeon
'Hey Arnold' Is Getting A Movie, & Here Are 6 Other 90's Shows That'd Be Awesome On The Big Screen
When you think of 90s TV — specifically 90s cartoons — it's sad to think of just how many shows abruptly ended that we never got to formally say goodbye to. Some were lucky enough to get the movie treatment — like Rugrats, which was turned into full-length film back in 1998. But plenty of others remained firmly implanted in our memories. Soon, though, another gets to rise from the ashes: On Monday morning, news broke that Nickelodeon is set to produce a Hey Arnold! TV movie — and every 90s kid immediately broke out into a happy dance all over the Internet.
Variety got the exclusive scoop, and shared on Monday that the film will finally answer what happened to Arnold's parents. But Nick executives are pretty much staying mum about any other details, including when the movie should premiere. The company is certainly changing tides, though: Chris Viscardi (co-creator of The Adventures of Pete & Pete) was named Senior Vice President of Content Development for Franchise Properties. And since this is a new role altogether, it will be interesting to see how Viscardi will play a role in this new movie.
If the announcement seemed to come out of left field for you, you're not alone. But as Russell Hicks, President of Content Development and Production for Nickelodeon Group explained, there was one major driving force behind what brought a new Hey Arnold! flick into being. Said Hicks:
Kids who grew up on these characters are now of the age that they are having kids and families themselves. Our library has come to fruition and it's time for it to start coming back to life.
And if you think he's hinting that more 90s favorites could be revamped in the near future, you may be on the right track. Though Nickolodeon says they're not marketing to the then-kids who grew up with them, we can also expect shows like Ren & Stimpy, CatDog, and The Angry Beavers coming back for a second time — with a family spin.
The triumphant return of Hey Arnold! no doubt has everyone thinking about other shows that never saw beyond a 20-minute episode. Here are six other 90s shows that never graced the silver screen... but definitely still could:
Rocko's Modern Life
It's impossible to think of Rocko's Modern Life without realizing how it totally paved the way for shows like Spongebob. I mean, they had annoying jingles (like the one above), Spunky definitely draws some parallels to Gary, and Heifer... c'mon, that is Patrick on land. But, unlike their aquatic counterpart, Rocko never got a movie! For shame.
2. Are You Afraid Of The Dark?
If we listed the top reasons why kids left their lights on during the 90s, this show would be placed near the top. Are You Afraid of The Dark? is what nightmares were made of. (And by the way, the answer to that question was always a resounding yes.) But we couldn't stop watching it. And it may be for our own good, the series was never turned into a movie — though looking back, it probably would have been frighteningly awesome.
3. Rocket Power
Even if our parents wouldn't allow us to hit up our local skate park, you probably couldn't wait to watch Rocket Power. Whether it was to hear Tito's invaluable, yet borderline confusing, advice, learn some lingo you could not wait to use in causal conversation, or to feel bad for "Squid," there was always some sort of takeaway and lasting lesson. So, you probably can't help but wonder how a movie about their teenage life would pan out.
4. Aaahh! Real Monsters
While this show was a little lighter than Are You Afraid Of The Dark? it is undeniable that Aaahh! Real Monsters had a strong creep factor. And according to Mental Floss, we got so close to getting a movie being made but allegedly Paramount Pictures dropped the movie for being too dark. Though we've had Monsters Inc. to fall back on all these years, it still feels criminal that this 90s hit never got a shot on the big screen.
5. The Adventures of Pete & Pete
If ever a TV show could get you though your awkward coming-of-age years, it was The Adventures of Pete & Pete. Since some of us weren't quite ready for Degrassi, we got some A+ advice from a show about two redheaded brothers with the same name. And if for nothing else, we need a movie to better understand how and why Little Pete had Ariel tattooed on his arm...
6. Kenan and Kel
Though we did get Good Burger — a Nick classic — in 1997, many children of the 90s may not be aware that the duo never had a movie based on their priceless supermarket and everyday antics. But could you imagine it if they did? There would have to be some orange soda involved.
I think I speak for everyone when I say: Please, come through on movie versions of these other shows, Nick. The world would obviously be all the better for it.
Images: Nickelodeon; Giphy (3)