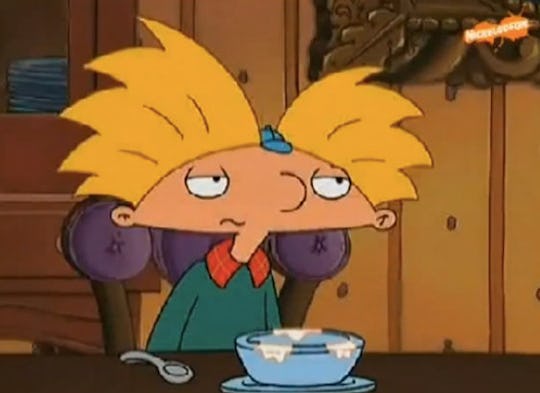 Nickelodeon
'Hey Arnold!' Star Lane Toran Is All Grown Up, & Hardcore Turning The Internet On
While you may still be pretty psyched after hearing that a new Hey Arnold! movie is in the works, here's some related news that'll make your week even brighter: Apparently, the Internet has discovered that the guy who voiced Arnold, Lane Toran, is... well, super hot. And I don't mean hot for a former football head. I mean the guy is an absolute masterpiece of hotness.
Though he may be best known as the guy who voiced the kid with the crazy hair, weird head, and hands-down coolest room ever on Nickelodeon, Toran's IMDB page points out that he's also had roles in Rocket Power, Recess, and As Told By Ginger — which means we practically grew up with the guy and didn't even know it. But ever since yesterday, after Buzzfeed picked up on the beauty that is Toran, the Internet took the story and ran with it; making us all intimately acquainted with his chiseled, bearded face. Almost immediately, former fans professed their undying love to the now-33-year-old singer and model all over Twitter. And I can't blame them. I mean, the dude seriously knows how to rock the tatted-up, hipster-esque, plaid-wearing bearded hottie look. And we are all indebted to him for it:
Toran only voiced the character for 41 episodes, not the full five seasons. But that hasn't stopped people from connecting with him. Thanks to his sudden spike in popularity this week, Toran gained more than 100,000 followers on Instagram, and set out to thank his fans for their newfound...um, interest. He also let us all in on why he stopped voicing the main protagonist after the first season, writing:
Thank you Thank you Thank you. I really appreciate all the love. & thank you to @buzzfeed for the article. I know I don't talk about Hey Arnold! on here so some of you that have been following me for a while might not know, but I did voice 'Arnold' for all of season 1 (until my voice changed). It's crazy to be a part of something that's still talked about and watched 20 years later. And 100k?? Again, thank you
For more Toran eye candy, here you are:
The Twitterverse has been kicking itself for not knowing about Toran sooner — but by the looks of their tweets, they're pretty thankful that they know about him now. And for the first time in ages, it seems like Twitter is in agreement about something: Dude is hot AF.
Well now we understand exactly how Helga was feeling...
Image: Nickelodeon; Giphy