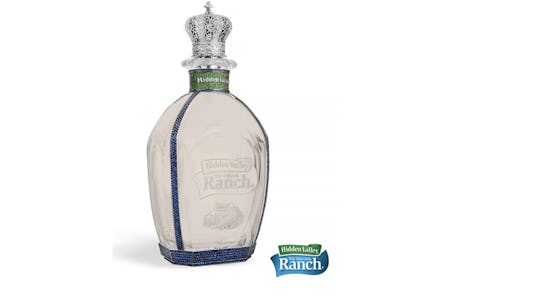 Hidden Valley
Who Among Us Needs, No, *Deserves* This $35,000 Jewel-Encrusted Bottle Of Ranch?
When I was in middle school, I had a friend who was obsessed with dipping her pizza in ranch dressing. I never understood her affection for it and, quite frankly, thought it was a little gross. I had no idea it was an actual thing until I hit college and people would stand in line at the salad bar for a scoop of ranch to pair with their pizza. I may not have ever hopped aboard that boat, but for those of you who have I feel like the unveiling of this Hidden Valley jewel-encrusted ranch dressing is just for you. After all, why wouldn't you want a bottle of ranch dressing decked out in jewels?
According to Food & Wine, the bottle was created especially for National Ranch Day, which just happens to be a every unofficial food holiday that takes place March 10. The bottle is studded with diamond, sapphire, and 18-karat white gold, and wears a crown-like bottle cap. The price tag is a mere $35,000.
Adding more to the story is that the bottle was apparently created in part to celebrate the upcoming royal wedding of Meghan Markle and Prince Harry, according to the magazine. The company created two bottles — one to be sent overseas and a second to give to a lucky ranch lover who retweets Hidden Valley's Twitter post about the bottle and has their tweet randomly selected. The giveaway takes place between March 10 and May 19.
And if Twitter provides even a peek into the hype that surrounds ranch dressing, then I have a feeling this giveaway is bound to be a hit. Do a quick search and you'll run into everyone from those who call pizza with ranch for breakfast their "favorite thing in the world" to Staci, who wrote: "It's #InternationalWomen day&that's amazing& awesome but did you also know coming up is RANCH DRESSING day! @HVRanch so glad this is a thing."
While you're hopefully awaiting the arrival of your pricey bottle of ranch, you could, of course, always start the party early with some ranch-infused recipes, like this Ranch Pasta Salad with Bacon, a recommendation from A Pretty Life. Made with bacon, mini penne pasta, and zesty ranch seasonings, it's sure to be a hit with your ranch enthusiast friends.
You could also play it like a true ranch dressing artisan and learn how to make your own dressing. This Homemade Ranch Dressing Recipe from Foodie Crush leans on mayonnaise, buttermilk, sour cream, chopped chives, Italian parsley, garlic, dill, and a few other ingredients to create a yummy rendition that you can whip up in the comfort of your own kitchen.
You can also go the one-pot route and cook up the Chicken Bacon Ranch Pasta from Meatloaf and Melodrama. Made with chicken, onions, Italian seasoning, penne pasta, ranch dressing (duh), Monterey Jack cheese, bacon, and parsley, it's bound to be a hit at your next meeting of the Ranch Dressing Aficionados Club. Or whip up some quinoa and call the dish healthy with this Red Quinoa Bowl with Lime Cilantro Ranch Dressing from The Little Epicurean. After all, it never hurts to put a new spin on an old favorite, am I right?
And if seeing the glittery bottle of Hidden Valley Ranch Dressing means you simply can never look at an ordinary bottle of ranch again, then I say you bedazzle the sh*t out of the bottle you have stocked in your refrigerator (or if you are seriously dedicated, then the nine in your pantry). Because, while the jewel-encrusted bottle is awfully pretty, I can bet you one thing: The contents are the same as your generic bottle of HV you always have on hand.
And from what I hear, those ingredients are freaking salad dressing gold.
Check out Romper's new video series, Bearing The Motherload, where disagreeing parents from different sides of an issue sit down with a mediator and talk about how to support (and not judge) each other's parenting perspectives. New episodes air Mondays on Facebook.