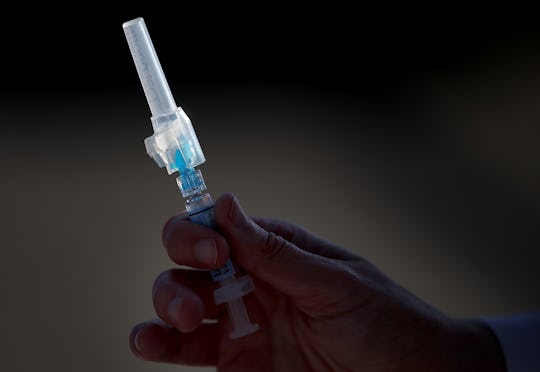 Justin Sullivan/Getty Images News/Getty Images
Debate Emerges At High School's Anti-Vaccine Conference
Hosting a health summit in a small town appears, at first glance, to be an inefficient use of resources. If you're looking to spread a message, why not hold your get-together in a big city, where plenty are able to attend? It's for this reason that a high school's anti-vaccine conference has sparked debate within its local community. Many residents of Stowe, Vermont who believe the town is being used to further an agenda by exploiting a vulnerable population want nothing to do with the event, and are working diligently to oppose it.
This to-vaxx-or-not-to-vaxx debate comes at a time when, halfway across the country, a Minnesota measles outbreak linked to the anti-vaccine movement is making waves. Thus, Stowe parents are ready to fight against what they believe is a pretty dangerous message.
The conference is to be held at Stowe High School, which often uses its auditorium for outside events, officials claimed. "We do not pick and choose who gets to use our facilities based on the content of their message," Tracy Wrend, superintendent of the Lamoille South Supervisory Union, shared with BuzzFeed News.
Called "Hope & Healing for Autism and Neuro-developmental Disorders," the summit costs $129-$300 per ticket and is scheduled to occur on Saturday, May 20. Its website insists that attendees will be able to "examine the evidence and the science, so that you may make informed health choices" regarding "diet, lifestyle, alternative health care options, GMOs, vaccines, chemical/heavy metal detoxification, [and] transcendental meditation" through various speakers and exhibitors. Sponsored by the Vermont Coalition for Vaccine Choice (VCVC), the site offers the disclaimer that "no information at this conference is presented" by the VCVC "as medical advice."
But many feel like the conference is honing in on a vulnerable population. The state of Vermont just passed an anti-vaccine choice law in 2015, prohibiting vaccine exemption for non-medical reasons, but before that, vaccine exemption was possible. "Our community is being targeted by the anti-vaxxers," doctor, parent, and Stowe resident Bob Arnot told BuzzFeed News. "We just think it's wrong to come into small-town Vermont and target parents at a public school."
Protesting the event, Stowe locals are hosting a bake sale instead that will go on simultaneously with the conference. Residents have also started a petition, titled "Tell Event Organizers You Stand with Public Health," calling out the leader of the event, local chiropractor Brad Rauch. "These figures' incendiary rhetoric and hostile, anti-science views pose a threat to public safety and public health," the online petition reads. "This event has no place in our school."
Rauch, however, resents this assertion. "It is not an anti-vaccination event," he told BuzzFeed News. "It is an event that outlines what we believe to be the major causes for the explosion of neurobehavioral issues and chronic illness with our children and in our society."
Time and time again, health officials have assured the public that vaccines do not cause Autism, but concerned parents are willing to challenge these scientific facts anyway. Still, as this case has shown, their opposition will always be met by parents looking to protect their children's safety, working to halt the spread of misinformation, even if it's just in the small town setting of a high school auditorium.