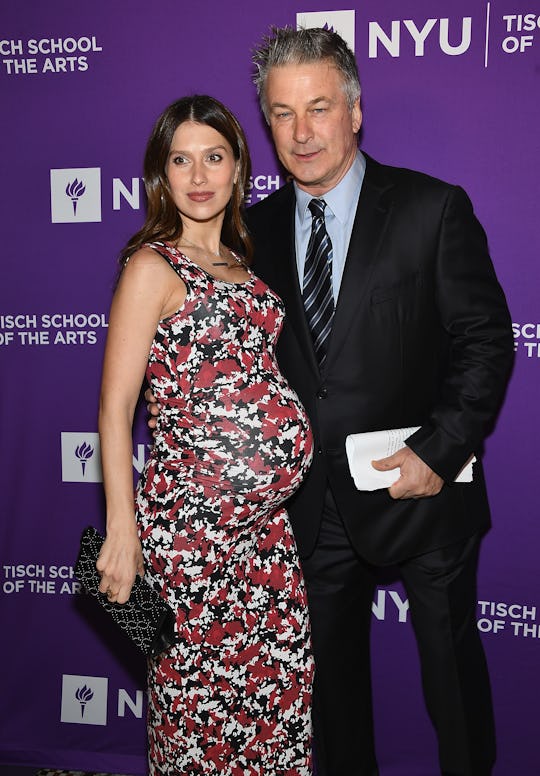 Dimitrios Kambouris/Getty Images Entertainment/Getty Images
Hilaria & Alec Baldwin Changed Their Baby's Name At The Last Minute, & Here's Why
The task of naming a child doesn't always come easily. Sure, one parent might have been compiling a list for years leading up to the pregnancy. But typically, the opinion of both parents is taken into consideration. And sometimes, finding even just one name a couple can agree on proves nearly impossible. Other times, the perfect name is decided months before a baby arrives — until suddenly, it doesn't seem to fit anymore. What are torn parents to do, especially after they've been referring to their unborn child as that name around their older children? Hilaria & Alec Baldwin's baby-naming experience shows that sometimes, parents need to meet their little ones before deciding.
Hilaria and Alec Baldwin welcomed their fourth child together in May, Us Weekly reported. The pair were already parents to Carmen, 5, Rafael, 3, and Leonardo, 1. "He's here!" Hilaria captioned an Instagram photo of herself, Alec, and their newborn son at a hospital on May 17. "He's perfect! 8lbs 2oz #wegotthis2018." However, it wasn't until May 21 that Hilaria revealed her newest addition's name, according to E! Online. "We are happy to introduce you to Romeo Alejandro David Baldwin," the proud mama wrote on Instagram, alongside a photo of her baby boy asleep on her lap.
Now, it's not all that uncommon for celebrities to wait a day or two in between announcing their baby's arrival and revealing the name. With that said, in this case it wasn't necessarily done to "spread out" the news or to keep followers in prolonged suspense. It was because Hilaria and Alec simply hadn't decided on a name yet, according to People. "He didn't have a name for two days," the fitness instructor recently told the publication. "His name that we were pretty set on the entire time was Diego, which I still really love. I told my kids, 'Diego is gonna come,' and they were all waiting for him. I don't know why I just started getting this sense really close to when I was gonna give birth that that was not his name." She continued:
I really do feel that my kids are their names. We tried on a bunch of different names [for Romeo]. The first two days when [I was] still in the hospital, I kept trying to call him different names and see how [they] fit. … The first place Alec too me was Rome. We're big Rome fans.
While they ultimately went with the name Romeo instead of Diego, apparently the Baldwins' children were a bit confused about the last-minute switch-up. (Which is totally understandable.) Baldwin told People that her 3-year-old, Rafael, kept asking when Diego was going to come home months after baby number four arrived. LOL. Poor little guy. According to one BabyCenter survey, 3 percent of parents reported switching their baby's name after birth. So it's not all that uncommon. At least Hilaria and Alec acknowledged their "name regret" before it was made official/legal — even if their kiddos had already gotten used to the idea of having a baby named Diego.
Thankfully, my husband and I haven't run into any major issues when it comes to naming our children. Like the Baldwin's, we've starting referring to baby number four by an actual name when talking with our kids about their baby sister. So hopefully — *fingers crossed* — we don't run into the same situation that Hilaria and Alec Baldwin did as my due date gets closer. Even so, the Baldwin's baby-naming experience shows there's nothing wrong with changing your mind. Because sometimes, parents need to meet their little ones before finding one that sticks.