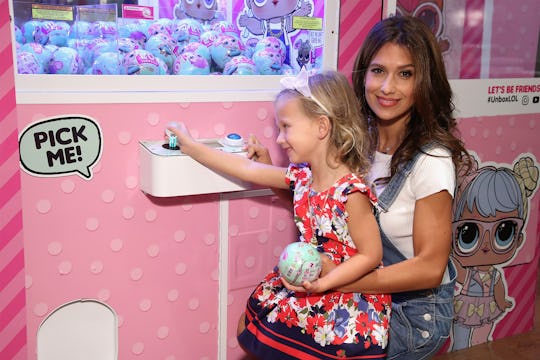 Cindy Ord/Getty Images Entertainment/Getty Images
This Is How Hilaria Baldwin Manages Four Kids Under 5, A Career, & A Marriage
Hilaria Baldwin might be a published author who is growing a huge following as a fitness and lifestyle guru on Instagram, starting a star-studded podcast with celeb buddy Daphe Oz, and married to a huge movie star, but she's still got parenting horror stories like all the rest of us.
Take the recent birth of Hilaria Baldwins fourth child, son Romeo, with husband, Alec Baldwin, adding to a full house that already includes sons Rafael, 3, Leo, 2, and daughter Carmen, 5. "I had pneumonia, Rafael and Leo had the flu, Carmen had Pink Eye. Alec wasn't sick, thank God. I'm tough [but still, I was thinking], 'What have I done [to deserve this]?' You're postpartum and crying, 'I hope my baby won't get sick!'" she tells Romper via phone, laughing at the now bittersweet memory.
That's a rough one, but Baldwin is the type who seems to look at the craziness that is her life with a twinkle in her eye. And since the baby remained happy and healthy through all of that, amazingly, and is now a bouncing four-month-old, it of course makes the episode amusing in retrospect. "Life is amazing. I always want to live it as fully as possible," she explains, as you hear at least one child in the background.
Having four kids under the age of five in the house can't be easy, even with domestic help if and when needed, and an involved husband, but Baldwin knows that the trick is to try to remain zen in the midst of chaos. "I'm so conscious that [someday], I'm going to miss this phase," she says. "It goes so fast, and it's so hard."
Luckily, time-management seems to be one of Baldwin's strengths, which is why she's been able, baby and all, to take on Mom Brain, a podcast with fellow mom Daphne Oz, whom she has been friends with for years. Daphne is Dr. Mehmet Oz's daughter, a former TV personality, and a mom of three, as People reported.
"She's like-minded in terms of parenting, and out of a playdate, the idea for a podcast to talk about mom issues [came about]. It was just organic and we [hope] it's relatable," Baldwin adds.
The two will compare notes on the show with such celeb parents as Sheryl Crow (!) and designer Rebecca Minkoff. "People can write in questions, and it will be a real community," she reports, the excitement vibrating in her voice.
And while so many moms on social-media just seem to be there to show off in a game of never-ending competition, Baldwin says that her background in wellness is what motivates her to share post-baby bikini pics, fitness moves, and all the rest of the trappings of her busy, but glam, life with 413,000 fans.
"It's less about getting followers for me... as a yoga teacher by training, I like to see the thread that connects everyone. That's my passion," she says. The star adds that her 2016 book, The Living Clearly Method; 5 Principles for a Fit Body, Healthy Mind & Joyful Life echoed the same philosophy of offering life tools, something that became a calling for her after she recovered from an eating disorder as a younger woman.
There's also her partnership with Jet.com, a home delivery service offering a curated selection of eco-friendly products for a big-city mom like herself. "I'm a low-tech person who used to not like online shopping," she explains, which many of us can relate to. "When I did [try it], I never went back. I feel lucky to live in a time when [something like that exists]."
Baldwin notes that although the family also has a property in Amagansett, New York, she prefers their apartment in the city, where she can easily take Carmen to her bilingual Kindergarten program, or hop over to the Natural History Museum, or an indoor play space. (Baldwin was born in Spain and Carmen is learning Spanish in class, she notes, in addition to an afternoon siesta. Nice!)
This cutely-proud mom offers that Carmen's younger brothers are coming into their own personalities, too. Rafael is "a musician and very emotional," while Leonardo is the family "jokester." As for Carmen, the big sibling and family leader, she's let mama know that she wants a sister, reports Baldwin, and Baldwin notes she hasn't ruled that possibility out.
In addition to having supplies and groceries come to her via Jet.com, another one of Baldwin's mom hacks is to take a sec here and there for whatever form of exercise she can jam in. In fact, a recent Instagram post shows her doing calf raises on the staircase while chatting with her hubby.
She and Alec, who will be starring in his very own talk show on ABC, according to The Hollywood Reporter, seem to have a super-fun relationship. He recently challenged her to a push-up contest live on The Tonight Show, joking to Jimmy Fallon that no one can figure out how he nabbed Hilaria.
"Famous or not famous, you have to make the time for each other," she says of her marriage to Alec. "During this phone conversation, [Alec] has called me four times to check in," she laughs. "He didn't do this the first time around."
"He's committed to not going away [to film] for long periods of time. We put the kids to bed and then spend time together," Hilaria notes, before adding that her A-list husband understands that he has to share her with the rest of the family — and all of her domestic jobs. "It's multitasking," she says. "Can I fold things and [tell Alec] 'I love you,' at the same time? Yes, I can."
Hilaria is so much fun to talk to, but she realizes that she has to go, it's time to take Carmen to the dentist. Still, this mom confesses that she's just as imperfect and stressed as other parents: "I'm with my daughter, doing a million errands, she'll be asking a million questions, she's asking me, 'Why turtles don't have hair?' I feel the [frustration] bubbling up. So I know I have to deep-breathe."
Good advice, Hilaria.
Correction: A previous version of this article suggested Hilaria Baldwin and Daphne Oz met during an appearance on the Dr. Oz show. It has been updated.