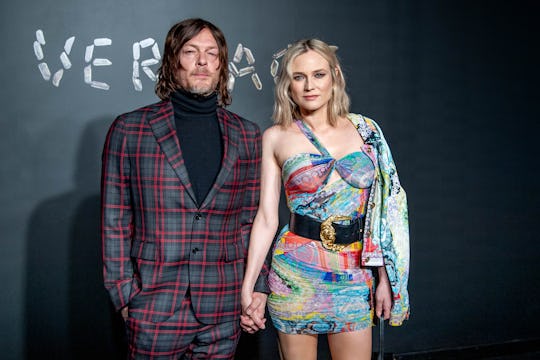 Roy Rochlin/Getty Images Entertainment/Getty Images
Hilarie Burton Defended Diane Kruger For Drinking After She Gave Birth
It probably shouldn't come as a total shock that people can find pretty much anything to mom-shame others over, especially if it involves any form of alcohol consumption, even pre-pregnancy or post-delivery. However, that's exactly what was happening online on Monday, before Hilarie Burton defended Diane Kruger after critics slammed her for drinking after she gave birth.
As a debriefer, here's what happened: On Nov. 2, Us Weekly reported that Kruger gave birth to her first child with partner Norman Reedus. Despite the initial swell of warm wishes from fans and followers, sentiments quickly soured as photos of Kruger were released of her going out and having a drink.
Apparently, people are upset because Kruger "should be breastfeeding," or, presumably, at a minimum, they are assuming she doesn't understand the concept of "pump and dump," the strategy some new moms utilize where they dump the next bit of milk they produce after having consumed alcohol, or that she hasn't discussed these sorts of things with her doctor.
Each sentiment is insulting, if not degrading. Ultimately, it boils down to a desire to control women and their bodies, and to police them over things that are absolutely nobody else's business... especially when they are innocuous like this.
However, when a social media user criticized Kruger, that's precisely when BFF of the year Hilarie Burton started shutting down the trolls on Twitter.
""Dear @JDMorgan @HilarieBurton," Us Weekly reported the tweet in question began. (It has since reportedly been made private, or deleted.) "Can you say to Aunt Diane that after a birth she can't drink alcohol (bc breastfeeding). I think you both as great parents you know what I mean. I know that uncle Norman need a drink bc of her (Diane). But that poor New born baby."
Burton replied:
What a gross thing for you to say. You should be ashamed. I like Diane. You must feel really awful about yourself to attack someone you don't know. I suggest looking inward, lady. Get a life.
Fans immediately began responding, pointing out that it's impossible to know whether the drink in her hand was alcoholic, and even if that were the case, it is also impossible to know whether or not she's breastfeeding in the first place.
"First, how do we know its alcohol. 2nd, how do we even know she is breast feeding. 3rd, and this has nothing to do with 1 or 2, but dang she look good after just having their baby," said one reply. "Breastfeeding moms can drink. It's called pump and dump," said another.
"I'm weighing in on this... How the hell does her drinking even have any effect on you? How do you know she breastfeeds? How do you know she was drunk? How do you know it isn't sparkling cider? Have you hung out with her to know if she is a bad person or not? My guess is NOPE!" said another.
Though Kruger gave birth almost exactly one month ago, most of the details regarding her newest addition have been kept secret. Page Six purports to have confirmed that the baby was a girl, though her name is still unknown, and other outlets have not been able to confirm the sex of the baby.
Either way, it seems that Kruger is probably taking her time adjusting to motherhood, learning to balance her personal and social life with her newest role. And whether or not that means she wears a certain type of dress or drinks or doesn't drink on the weekend? Absolutely nobody's business but her own.
This first-time mom wants to have a home birth, but is she ready? Watch how a doula supports a military mom who's determined to have a home birth in Episode One of Romper's Doula Diaries, Season Two, below. Visit Bustle Digital Group's YouTube page for the next three episodes, launching every Monday starting November 26.