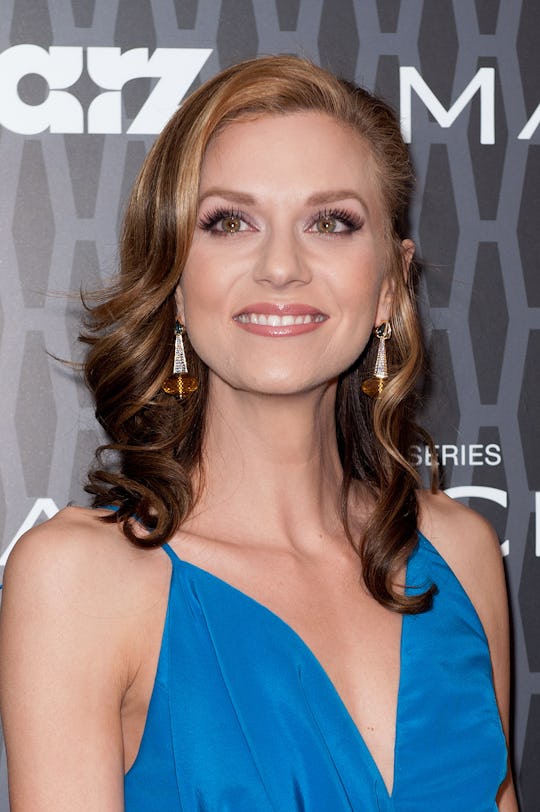 D Dipasupil/Getty Images Entertainment/Getty Images
Hilarie Burton's Message For #WhyIWearBlack Will Make Every Mom Tear Up
On Sunday night, countless celebrity moms who didn't attend the Golden Globes took to social media to stand in solidarity with the actors and actresses participating in the "Time's Up" movement. From Mindy Kaling's Instagram post about wearing her "black nursing bra" to Kristen Bell's black sweater embroidered with the word "equality," there was no shortage of powerful moms sharing their two cents on #WhyIWearBlack. And if you can't get enough of this transformative moment in history, you'll definitely want to read Hilarie Burton's message for #WhyIWearBlack. If you're a mom, there's a good chance her poignant take will make you cry or at least tear up.
Although Bell and Kaling's posts on social media were quite moving, Burton's note really blew me away. For starters, Burton is currently pregnant with her second child, according to E! Online, and I can't even begin to imagine what it must feel like to watch the #MeToo and Time's Up movements unfold while you're carrying your unborn child. Positive change on this large of a scale must inspire a deep sense of hope, right? I think it's safe to say every parent hopes that their kid will grow up in a better world than they did.
And of course, there's the fact that Burton is carrying a daughter. Not only is Burton aware of how profound it is to be carrying a daughter during this "awakening" in history, but she's also "grateful" that her child will grow up with such a powerful "sisterhood." Burton tweeted, according to People:
#WhyIWearBlackBecause this rebirth and awakening coincided with my pregnancy, my unborn daughter and I wear black. For all the mothers and daughters and sisters - blood related or otherwise. I have been changed for the better because of this sisterhood. #grateful.
The part about Burton being "grateful" is where I really think her message hits the nail on the head. 2017 was the year when women took action and demanded better together. From the Women's March to organizing movements against sexual harassment and assault, the sisterhood showed up en masse during a time when the world felt exceptionally bleak and hopeless.
And on another note, I think it's important to point out that Burton has an especially personal connection to the #WhyIWearBlack movement. Fans might remember that back in October, Burton accused fellow actor Ben Affleck of groping her breast during an outtake of Total Request Live in 2003, according to ET Online. Affleck tweeted an apology when the allegation first surfaced, writing: "I acted inappropriately toward Ms. Burton and I sincerely apologize." A representative for Affleck declined to offer additional comment.
Although Affleck told Stephen Colbert in November that he failed to clearly "remember" the incident and that he "supports the voices coming forward," according to Us Weekly, Burton has not forgotten the situation.
When a Twitter user reminded Burton that Affleck allegedly groped her, she responded, "I did not forget," according to ET Online. The conversation then became a back and forth between Burton and the fan about recognizing "predatory" behavior that often gets swept under the rug.
Burton's supporter wrote, according to Us Weekly:
I'm so sorry that happened to you. It's infuriating that people never bring up all the gross, predatory things he's done. We see you.
Burton replied back, according to Twitter:
Seriously, thank you for that. I was a kid. I remember when that happened and never forgot about it.
The value and importance of a phrase like "we see you" really can't be summed up in words. To have your pain and trauma recognized is extremely important, because it's something you'll have to carry for the rest of your life. Burton perfectly summed up this truth in an Instagram post from October 2017, writing, "It leaves a mark."
Check out Romper's new video series, Romper's Doula Diaries:
Watch full episodes of Romper's Doula Diaries on Facebook Watch.