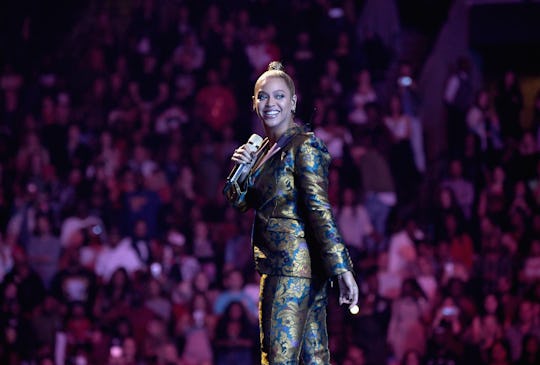 Larry Busacca/Getty Images Entertainment/Getty Images
Hilarious Memes About Beyonce's Twins Photo That You Need In Your Life
Sound the alarm, call off of work, do whatever it is you need to do to focus on the following sentence. Beyoncé has released the first photo of her twins, Sir Carter and Rumi, and OMG it is everything you could have ever asked for. On July 13, Beyoncé dropped the incredible photo on her Instagram, allowing much of the (awake) internet to catch their breath and then move on to creating some truly hilarious memes about Beyonce's twins photo reveal.
While many of us are still picking our jaws off of the ground after seeing the photo that Beyoncé posted, others may be wondering what is the occasion for releasing the photo now. Well, besides my ear-piercing prayers before bed each night, Beyoncé noted that July 13 is the one month birthday of Sir Carter and Rumi, which obviously warrants a full on photoshoot. In fact, I hope each month following this one has its own photoshoot. That feels 100 percent reasonable to ask of a new mom of twins, right?
OK, maybe we won't get a ton of photos of the twins right away, but luckily Twitter has helped with that problem by creating some one-of-a-kind memes based on Beyoncé's twins' photo reveal. First, let us bow down to she who did it first.
Twitter was quick with the Photoshop tool, adding some sweet (and frightening) edits to the original. From adding Donald Trump's face (some think, based on when Beyoncé's photo was posted on the east coast, that Trump and the twins share the same birthday), to making the photo an actual work of art, fans went all out when sharing their feelings.
Others, while not playing around with the original, just had really hilarious reactions to the news that the photo was released. The general consensus? This is a huge freaking deal and we all may need to take a personal day to figure out how to move on with life.
Obviously Beyoncé fans are dedicated to making sure an Instagram photo of this caliber doesn't go unnoticed. And something tells me we'll be doing the same for any photos that follow. So just get the free trial for Photoshop, already.