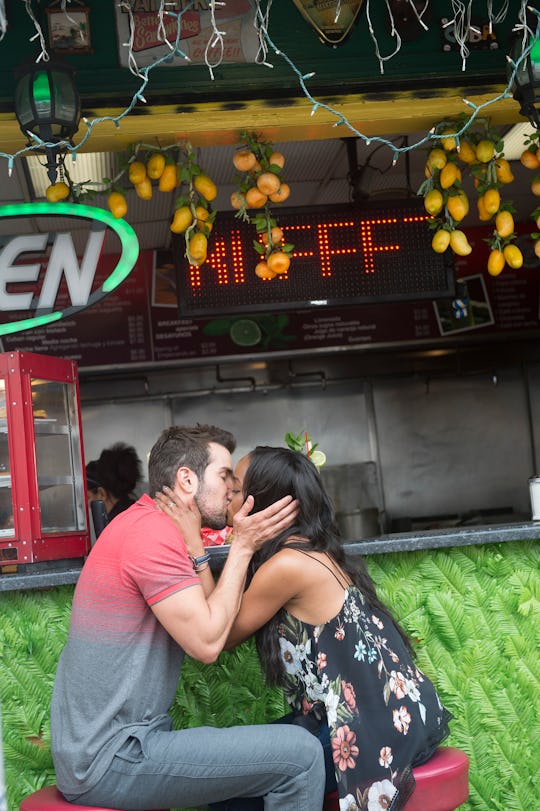 ABC/Rodrigo Varela
Twitter Didn't Love Bryan's Home Date With Rachel's Family
It's fantasy suite week on The Bachelorette, but before Rachel's remaining men can spend the night with her behind closed doors, they have to meet her family first. The Lindsay family seemed to embrace Peter and Eric...but Bryan? He's a bit of a different story. He walked in their house with his Miami swagger that won him the first impression rose (and many since then), Rachel's mother and siblings weren't really having it. Bryan seemed really enthusiastic, but her family were skeptical – and they weren't hiding it. Hilarious reactions to Bryan's date with Rachel's family on The Bachelorette proved that many people side with the Lindsays.
Earlier in the episode, viewers already could see that Peter and Eric weren't the biggest fans of Bryan. This makes sense as all of them are competing for Rachel's heart, but their dislike for Bryan was something else. It didn't help that both he and Rachel were wearing the Breitling watches they bought in Sweden. Peter trash talked him and said he wasn't being his true self with Rachel; he felt like he was like other things Miami is known for: "fake asses, fake boobs, and fake cheeks" (was that a slight dig at Bryan and the possibility that he has cheek implants?)
As it turns out, Rachel's friends – the Lindsays – seemed to have similar sentiments towards Bryan. Bryan first met a few friends of hers, where Rachel revealed that she thought he was a "douchebag" at first...and her friends didn't exactly deny it. Then, when he was speaking with the family about how much he loves Rachel, their faces said it all. Of course, Twitter fans aren't the biggest fans of Bryan, so their reactions to being vindicated by Rachel's family were hilarious:
It seemed that no matter what Bryan had to say, Rachel's mother, siblings, and in-laws weren't really falling for it. He discussed his relationship with his mother (I would probably pay to see his and Rachel's moms meet) and how much he loves Rachel, and both they and viewers had the same reaction: bored reaction gifs. Her family's opinion is important to her, so this may impact her and Bryan moving forward. No matter what happens, Bachelor Nation can be assured that they and the Lindsays were on the same page during their first meeting.