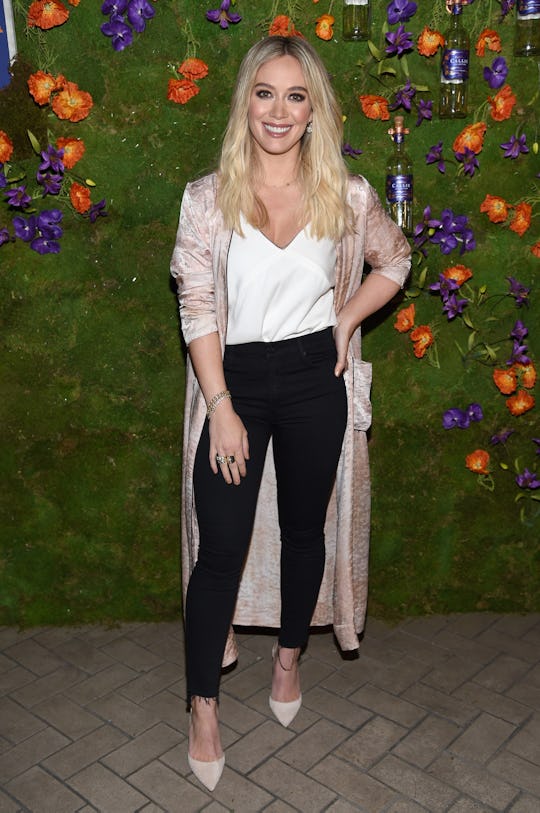 Dimitrios Kambouris/Getty Images Entertainment/Getty Images
Hilary Duff Announced She's Expecting Baby No. 2 With The *Sweetest* Pregnancy Reveal — PHOTO
It was only yesterday that actress Haylie Duff announced that she had welcomed her second child. And on Friday, June 8, her sister Hilary Duff revealed she's pregnant with a baby girl — also her second bundle of joy! The 30-year-old expectant mama shared a photo on Instagram announcing the happy news, showing off her growing pregnancy bump while her boyfriend — singer and songwriter, Matthew Koma — gave her smooch on the cheek.
"Guess what guys! @matthewkoma and I made a little princess of our own and we couldn't be more excited!!!!!!🤰🏼👶🏼🎀," she captioned the sweet photo of the parents-to-be. Koma shared the same photo on his Instagram page, confirming their baby-to-be's sex. "We made a baby girl! She will be as beautiful and sweet as her mother... @hilaryduff another incredible chapter begins," Koma shared on Instagram.
This will be Duff's first child Koma; the mom-to-be also has a 6-year-old son named Luca, whom she shares with her ex-husband, NHL star Mike Comrie, according to Cosmopolitan. Duff and Koma — who's written songs with artists like Zedd — have reportedly had an on-again/ off-again relationship over the years, according to E! News, but things have seemed to be going strong between the two for a while now. In December 2017, as E! News reported, Duff announced that she and Koma were officially back together, and it looks like things have been solid between them ever since.
In the minutes — yes, minutes — after Duff shared her pregnancy announcement on Instagram, fans of the Disney queen flooded the comments section with excited and celebratory messages for the expectant parents. "My heart!!!!! I'm so happy for you!! Congratulations!!" one fan commented. Another chimed in, "That's going to be one gorgeous girl."
While countless fans are clearly so excited for Duff to welcome her first daughter, her and Koma's IG captions really just capture the essence of the excitement felt all over right now.
And this baby girl certainly lucked out with one amazing mama. On many occasions, Duff has spoken about how much she loves being a mom to her son and she has also shared loads of adorable moments with Luca on social media.
Just last month, Duff told PopSugar just how being a mom to Luca has impacted her life. "He's taught me so much," she told PopSugar in May. "I feel like I was never this patient, but it's just made me a nicer person, and I apply it to other aspects of my life."
Also last month, in honor of Mother's Day, Duff shared an incredible sweet caption with a video of her and Luca. She wrote:
This little creature made me a mom and I thank my lucky ✨ everyday❤️ happy Mother's Day to every mama out there! You know what you do to make the world go round! Keep kicking a**! Muah❤️
Oh, and there's also super cute selfie of Duff and Luca, seemingly celebrating a lost tooth. "Watch out for the toothless one," she wrote. "He slays you."
Needless to say, Duff is one heck of a mom and it's so, so exciting to hear that the Lizzie McGuire all millennials loved to watch growing up will soon be adding a little girl to her brood. Though she has not announced a due date with her daughter-to-be, it's probably safe to assume that Duff is somewhere past her first trimester, since that's when most women wait to share their pregnancy news as the risk of miscarriage has significantly decreased, according to BabyCenter. With the said and a bit of calculating, Duff and Koma could be welcoming their little girl sometime this winter.