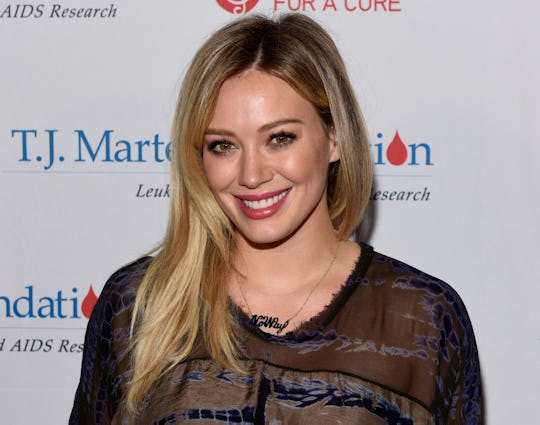 Dave Kotinsky/Getty Images Entertainment/Getty Images
This Video Of Hilary Duff Boxing While She's 9 Months Pregnant Is So Badass
Hilary Duff is enjoying her pregnancy as much she can, most recently celebrating #NationalDaughtersDay on Sept. 26 in honor of her daughter-to-be. But just because Duff is in celebration mode these days, it doesn't mean she can't get down and dirty when she feels like it. Need some proof? Look no further than this video of Hilary Duff boxing while pregnant. Not only is the clip impressive, but there's a good chance it will have parents cheering.
Duff isn't afraid to pamper herself during pregnancy number two. From dinners with friends to relaxing days at the beach, the mom is well-versed in the art of self-care. And for many people out there — pregnant or not — exercise is an integral part of this process. As for Duff's preferred workout? It looks like she's a big fan of boxing.
"@gabejohns pow pow pow pow pow," Duff captioned a Tuesday shot of herself sparring with her trainer, Gabe Johns, shared on Instagram.
Johns shared the same video to his own Instagram page, writing: "@hilaryduff 9 mos pregnant and still fierce as hell 👊💥#mamasaidknockyouout."
You got to give Duff props for this one, right? I can't imagine it's easy to find the energy to workout when your nine months pregnant, after all.
Following Duff's post, many parents left her comments of encouragement and support.
"Get it girl!!!" one fan gushed. "No one messes with mama!!!
Another person chimed in: "Dang girl! I can't stop watching this. Pregnant with no excuses!"
"Omg I couldn't love this more!!" a commenter wrote. "This baby is gonna be a toughie!"
"Look at you girl. I worked out the day I gave birth," someone said. "The recovery was amazing!!!! Atta girl."
Although working out while pregnant isn't for everyone (each pregnancy is different, of course), it's clear this is a positive form of exercise for Duff. And it's not like Duff is recreating Million Dollar Baby here — it looks like she and Johns engaged in a really chill form of boxing.
As for why Duff is such a big fan of boxing, it could have something to do with stress relief. "I'd say the number-one thing that sets boxing apart from other workouts is the degree of stress relief," Arnold Gonzalez, USA Boxer and a trainer at EverybodyFights, told Shape. "It's unlike any other workout."
Duff could probably use a little less stress in her life these days, especially since she has been dealing with some overzealous paparazzi. In fact, Duff took to Instagram on Sept. 22 to elaborate on a particularly upsetting experience with a photographer, writing:
This guy has been at my sons soccer game this morning then followed me to my sisters house and was basically parked in her drive way to get photos. Followed me to run errands. I politely asked him to let me be and he continues to follow and stalk me down like pray for hours now. This is not ok. I am 9 months pregnant. When people say that's what you get for signing up to be a celebrity it honestly makes me sick. This is every day of every month and it's simply not ok. If a non "celeb" (I'm sorry to use that word) was dealing with this the law would be involved.
Aww. It's terrible Duff has to go through this type of stuff.
On a positive note, however, it's great to see Duff enjoying boxing before she welcomes her baby girl. Keep being awesome, mama.