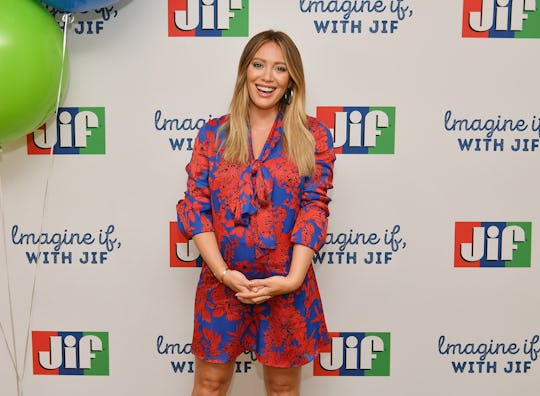 Dia Dipasupil/Getty Images Entertainment/Getty Images
Hilary Duff Has The Perfect Response When Her Son Became Sad Over Her New Baby
With all the excitement surrounding a new baby, it's easy to forget that someone may be losing something special while gaining a family member. Firstborns often mourn the loss of being an only child when they find out that mom is pregnant. Hilary Duff had the perfect response when her son was sad over no longer being an only child, and other parents can follow her lead when it comes to breaking the big news to their own firstborn.
When Duff first announced her pregnancy to her 6-year-old son Luca, he wasn't initially all that excited about being a big brother, according to the Huffington Post. The whole situation made him "a little nervous," his mom said. While sitting down with AOL's Gibson Johns for an interview, Duff shared that their first conversation about the new baby was "pretty sad."
Luca's first question was "why," she said, "because it's just been us for six years!" Duff had Luca in 2012 with now ex-husband, Mike Comrie, and the mother and son have been hanging out as just the two of them pretty much ever since. So when she told her son that she was expecting a baby girl with current boyfriend, Matthew Koma, a pretty intense conversation followed.
Duff explained to Luca just how big a mother's heart is, she told AOL:
I was like, 'Dude, you have no idea. This is going to be a really good thing for our family. Mom has so much room in my heart for you and a sister and you're going to have so much fun watching her grow and teaching her things.'
She went on to recall how she made the idea fun for Luca, which helped him come around to it:
I also told him that babies are funny! I was like, 'And I'm going to chase you around with her dirty diapers sometimes.' And he was like, 'Nooo!' If I keep it lighthearted, then he has fun with it and I do think he's excited. He's touching my belly now and saying 'goodbye' to her when he goes to school.
Easing firstborn children into the idea of growing your family can be tricky, but there are steps that parents can take to make the transition a bit smoother. Along with getting them excited about the baby, like Duff did with Luca, the Mayo Clinic recommended involving them in the preparation process. Let them help set up the nursery and attend OB-Gyn appointments to watch as the baby grows.
Additionally, Parents reported that storybooks framed around becoming an older sibling can help children understand how their lives will change with a new baby around. I'm a Big Sister (or I'm a Big Brother), by Joanna Cole and Waiting for Baby (New Baby), by Rachel Fuller are recommended reading for this time.
Finally, parents should encourage older children to talk about their feelings, according to Kids Health. And with younger children who can't do so yet, parents should be prepared for them to act out or misbehave to get attention and express themselves. HuffPost UK listed the following behaviors as examples of how firstborns act out when a new baby is on the scene: increased tantrums, increased whining, violence towards the new baby, violence towards you, refusal to go to anybody but mom, sleep regression, and potty training regression. Rather than bending the rules or punishing them harshly, consider including more one-on-one time with your eldest to let them know you are still there for them.
Fortunately for Duff, baby girls aren't completely foreign to Luca. His aunt Haylie Duff recently welcomed a baby girl named Lulu. Hilary told AOL that Luca's little cousin, Lulu, "has really helped." "He's like, 'Well, I'm going to get one of those, too!'" she said. As she nears the nine months mark in her pregnancy, the whole family is likely preparing for the little girl's arrival. Look forward to some sweet family photos this fall!