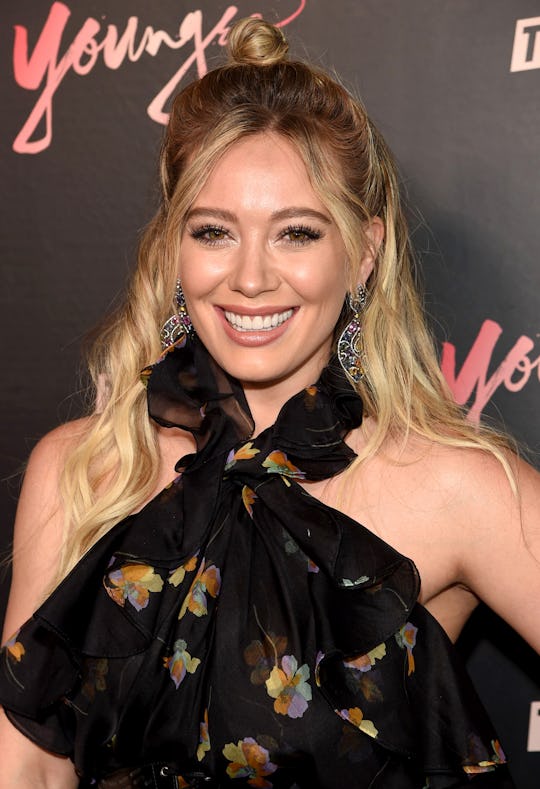 Jamie McCarthy/Getty Images Entertainment/Getty Images
Hilary Duff Shared A Bare Bump Photo Along With A Hilarious Eviction Note To Her Baby Girl
Even though few pregnant women ever give birth on their actual due dates, there's definitely something mega frustrating about watching it come and go. For many moms-to-be, that post-due date time is usually spent feeling uncomfortable and *so* anxious to just get the delivery over with already, and, well, judging by Hilary Duff's recent Instagram Story, she definitely seems to be in that zone right now. In fact, Hilary Duff is past her due date, according to People, and on Tuesday, she shared a cute snap of her bare bump on social media, along with the caption, "Yo...your hotel stay is up little girl."
Duff revealed back in an Instagram post in June that she and partner Matthew Koma were expecting their first child together, and though it wasn't her first go-around with pregnancy — she shares her 6-year-old son, Luca, with ex Mike Comrie — it was her first time being pregnant with a baby girl. Since then, she's shared some seriously cute pregnancy updates with her followers on social media, and it's pretty clear that she's been totally psyched about her daughter's impending birth. But now that her official due date is behind her? It sounds like Duff is more than ready to go into labor.
Though it's totally understandable that the Younger star would be feeling super impatient at this point, what makes things even harder is that, well, it sounds like she's been eager to give birth for a while now. In September, for example, Duff told People, "Honestly, I feel really good and I am a little over it at this point where I am like, 'Cool, I'm ready, when is it happening?'" but explained that having Luca was at least helping her from getting too wrapped up in her pregnancy. She said,
[It] is awesome to have another kid to focus on because you're not constantly focusing on every little ache and pain you feel or anything that happens. I am not on Google right away like I was the first time around. I know what is going on.
That definitely doesn't mean she hasn't at least been trying a few DIY eviction methods, however. On Oct. 14, Duff posted a photo in an Instagram Story of Caioti Pizza's "The Salad," and wrote that she was hoping it might help expedite her daughter's arrival — a Caioti Pizza employee told E! News that the "special herbs" in their balsamic dressing has been rumored to kickstart labor (unfortunately, it didn't seem to work for the actress though). And in August, according to E! News, the impatient mom-to-be posted a mirror selfie of her belly and wrote, "Babbbby! Hurry it on up."
Once her little girl does arrive though, it sounds like she'll already have a built-in bestie: Duff's sister, Haylie, welcomed her second child — a daughter named Lulu Gray — in June, according to Us Weekly, so chances are there will be plenty of cousin playdates on the horizon.
And just in case there was still any doubt about whether Duff wasn't already totally prepared to welcome her little girl into the world, it turns out that she and Koma have actually had her named picked out for quite a while now. On Instagram, Duff has been referring to her daughter as "B," and in August, she explained to People that her little girl's name starts with a B, and that it was the first thing she and Koma decided upon after they learned they were expecting. Duff said:
We actually agreed. We had one name picked out and then we swapped a week later and we haven't discussed it since. It's unique but it's not too weird. The name that we first thought we were gonna use is going to be her middle name, so we're like, "Let's not stress over this anymore."
No matter how much you might be enjoying being pregnant, it does definitely seem like most moms do start to feel kind of over it once their due date approaches. So hopefully, for Duff's sake, it won't be too much longer until her little Baby B finally arrives.