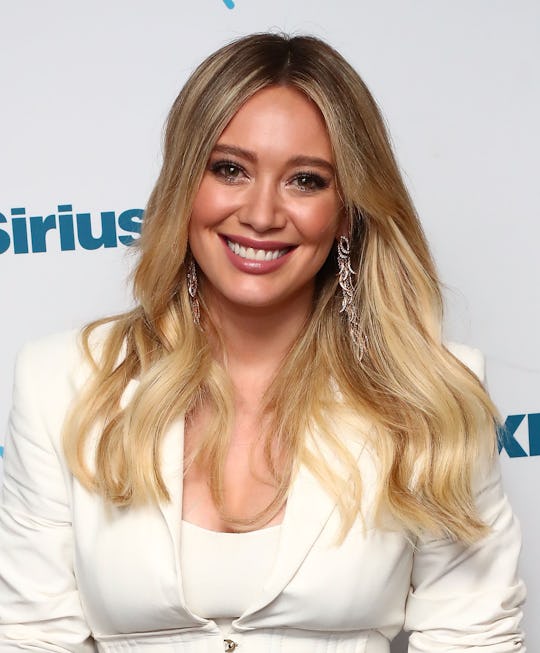 Astrid Stawiarz/Getty Images Entertainment/Getty Images
Hilary Duff Opens Up About Boyfriend Matthew Koma's New Dad Skills
After having her second baby only a month ago, Hilary Duff is opening up about watching Matthew Koma parent their baby daughter, Banks, and her reactions to sharing this special time with her partner are just so sweet. As People reported, Duff welcomed Banks, her first daughter, on Oct. 25 — her first child with boyfriend Koma.
Banks joined Luca Cruz, 6, her son with ex-husband Mike Comrie, the magazine added. Duff has posted absolutely to-die-for photos of Luca cradling little sister Banks has surfaced on her Instagram account, where she has also been very open about documenting her pregnancy journey and her re-introduction to breastfeeding.
But ever since she and Koma got back together after a series of false starts and got serious in late 2017, as E! News comfirmed, Duff has been clear that she's found "the one."
Now, she gets to have the experience of watching her soulmate bond with their baby, as she shared exclusively with CafeMom:
"[Since Banks's birth], my favorite part has been watching Matthew stare at her. Every noise she makes, every face she makes, he thinks is the most brilliant thing he's seen," Duff said. "He's so complimentary of me and in shock by the demands of a new mom. He's honestly the most helpful, thoughtful and eager to learn papa... We're still so blissed out!" Aww.
I love hearing this, because I've been a fan of Duff's for forever, and having a newborn can be a precious — yet stressful — time. So confirming that things are going so well at her house means there's good teamwork in her partnership... and that's pretty much the most essential thing when having young kids, as far as I'm concerned.
And since blending a family can be very complicated, it's great to hear things are going so smoothly. After all, Duff was a single parent for quite some time after her 2014 split from Comrie, and it hasn't been easy being on her own, as she told Redbook back in 2017.
The star also juggles a bi-coastal lifestyle, as she shared with Parents, filming her hit show Younger in New York, while Luca mainly keeps to his school routine in Los Angeles.
Oh, and she also gets involved with a lot of charities, including the Love Leo Rescue, a pet rescue operation.
Clearly, this woman has a lot on her plate, but the right relationship males you feel like you can take on anything. "Matt is so helpful and so great with Luca," Duff told Parents. "He knows that Luca has a great dad too, so he is like, 'I feel so lucky that I get to experience watching him grow up and be his special friend.' But he has a lot of responsibility and a lot of roles in the house."
And the actress can also check something else off her list now: having a little girl in the family. "I'm so lucky, I'm so blessed," Duff told E! News earlier this year. Congrats to this cute family.
Season 2 of Doula Diaries shares the stories of fearless doulas helping their clients take control of their births and make tough choices that feel right to them. Watch the first episode of the new season Monday, November 26th.