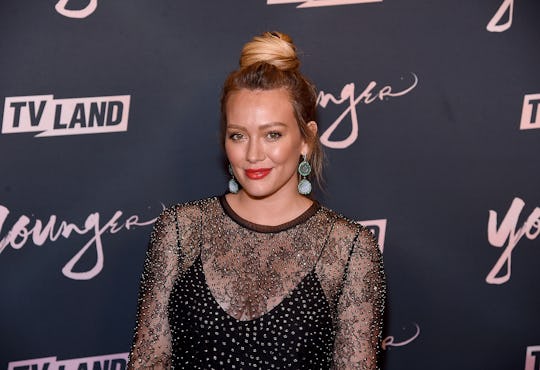 Jamie McCarthy/Getty Images Entertainment/Getty Images
Hilary Duff Is The Latest Mom To Follow This Major Placenta Trend
No matter how overjoyed you might be to finally have your newborn in your arms, it's no secret that the postpartum period can be pretty challenging. And while there may not be any magic solution, some moms swear there's a way to make it easier — though it probably isn't for those easily grossed out. During a recent interview for the podcast, Dr. Berlin Informed Pregnancy, Hilary Duff revealed she ate her placenta after giving birth to her daughter, Banks, in October, according to Entertainment Tonight, and while the practice is considered by some to be controversial, she's certainly not the first celebrity mom to endorse post-delivery placenta consumption.
Although placentas are definitely remarkable organs — their sole purpose for existing is to provide babies with crucial, life-sustaining things like oxygen and nutrients — most women don't usually give them much of a second thought after delivery. Yet, proponents of placenta consumption — aka placentophagy — believe that eating your placenta after birth can help milk production, and lower the risk of anemia and postpartum depression, according to What To Expect, which is why some new moms feel more than down to give it a shot. Though there are a variety of ways to actually do it, Duff told Dr. Berlin Informed Pregnancy that she decided to consume her own placenta by drinking it in a smoothie. And while that may seem pretty icky to some, the Younger actress actually called it the "most delightful smoothie [she's] ever had."
Purported benefits aside, the idea of eating your own placenta still may seem pretty unsettling. But Duff is certainly not the only high-profile mama to rave about it: both Kim and Kourtney Kardashian have discussed eating their own placentas in capsule form after giving birth, according to Us Weekly, and prior to delivering her daughter, True, Khloé also reportedly planned to do the same, according to The New York Daily News. In September, Chrissy Teigen shared that she ate her placenta after delivering her son, Miles, in an attempt to avoid the PPD she experienced following the birth of her daughter, Luna, according to Allure, and in previous years, celeb mamas January Jones, Alicia Silverston, Mayim Bialik, Holly Madison, Stacy Keibler and Gaby Hoffman have all gone on record to endorse placenta consumption as well.
Yet even though the idea of placentophagy may be growing in popularity, researchers and medical experts aren't fully convinced that the practice is effective: an Aug. 2017 study published in the American Journal of Obstetrics & Gynecology, for example, found that there is "no scientific evidence of any clinical benefit of placentophagy among humans," and that, while some claim that the hormones and nutrients in the placenta help boost new mothers' well-being, they aren't actually "retained in sufficient amounts after placenta encapsulation to be potentially helpful to the mother postpartum." And in Dec. 2017, Science noted that two recent studies found women who ate their placentas had "no significant changes in their moods, energy levels, hormone levels, or in bonding with their new infant" than moms who took a placebo.
What's more though? It's possible that eating your placenta is also unsafe. In June 2017, the Centers for Disease Control reported that a newborn in Oregon had contracted a group B Streptococcus agalactiae (GBS) infection after birth that was eventually linked to the mother's placenta pill consumption, as the pills tested positive for the bacteria.
Despite the lack of research (and the potential health concerns), it seems clear that, at least in Hollywood circles, there are lots of fans of placentophagy, and Duff seems to be the latest celeb mom to sing its praises. But if you're pregnant, and considering making your own post-delivery placenta smoothie? It definitely seems like a good idea to get your doctor's opinion.