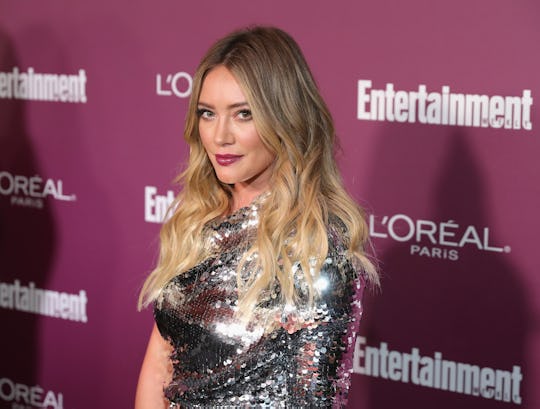 Neilson Barnard/Getty Images Entertainment/Getty Images
Hilary Duff Says Her Brain Is 'Kind Of Bare' After Giving Birth & It's Relatable
Being a mom to a newborn can be super tiring and draining — just ask actress, Hilary Duff. After welcoming her daughter, Banks, into the world with boyfriend, Matthew Koma, two months ago, Duff has been keeping herself busy being a mom. Because of this, it's understandable to see how her priorities have shifted in the recent weeks. Any mom can understand where she is coming from when Hilary Duff said her brain is "kind of bare" since giving birth, because it's something that almost every parent has gone through.
As previously stated, Duff has been very occupied since she gave birth to her daughter, Banks, on Oct. 25, according to E! News. Although Duff knows a thing or two about newborn babies, it had been a while since she had one in her home — her 6-year-old son, Luca, who she shares with ex-husband, Mike Comrie, was born in 2012, according to Parents.
Taking care of a newborn is tough — it's hard to learn how to live life without sleeping, eating, or showering for weeks on end. Since there is so much that Duff is now getting readjusted to and relearning, it's understandable why she revealed she's been struggling with her memory. During a recent speech at a benefit on Thursday, Duff said that she had to bring notes to give her speech because her memory has been struggling since giving birth.
"I have notes," Duff said, according to Us Weekly. "I have a baby at home that I just had, so my brain is kind of bare."
This is such a common feeling for other moms. It's easy to feel like there's not much left in your brain after spending every waking night and day tending to the baby. But this isn't a bad thing — it only emphasizes how priorities can change after giving birth. Sometimes, there isn't much room left to think about other things than just the little one that they just gave birth to — and that is perfectly OK.
This feeling of having a "bare brain" isn't just exclusive to Duff — it's quite common among moms to newborns. Some people call this "mommy brain," or having extreme forgetfulness in those first few weeks after giving birth. There are a few things that be attributed to this, according to Parenting — sleep deprivation, stress, and the desire to do everything at once can make a lethal combination for memory loss. It isn't the brain that changes during this time, according to the Telegraph, it's the things that the brain is focusing on that are changing. And when the focus shifts to a screaming, crying newborn, there isn't much room to remember anything else.
Shannon Sheip, mom of two and co-author of the book, Momnesia told FitPregnancy that moms should embrace their "baby brain" and take it lightly, just like Duff did. Sheip told FitPregnancy:
You may not be able to remember your husband's name, but take pride in the fact that you know your pediatrician's phone number by memory or that you can operate your breast pump with your eyes closed.
But Duff doesn't seem to mind having "mommy brain," especially because she told Entertainment Tonight, that adjusting to having two kids has been easy, especially since Luca is handling it so well.
"Honestly, it's like she's always been there," Duff told Entertainment Tonight. "Obviously a newborn needs their mom the most and when I start to feel bad that she consumes most of my time, I look at him and he's totally fine."
"He is so loving towards her and is always, like, holding her face and wants to hold her," she added.
The great news is, this "bare brain" is only temporary but this loving relationship between her two kids will last forever — and that seems good enough for Duff.
This first-time mom wants to have a home birth, but is she ready? Watch how a doula supports a military mom who's determined to have a home birth in Episode One of Romper's Doula Diaries, Season Two, below. Visit Bustle Digital Group's YouTube page for the next three episodes, launching Mondays in December.