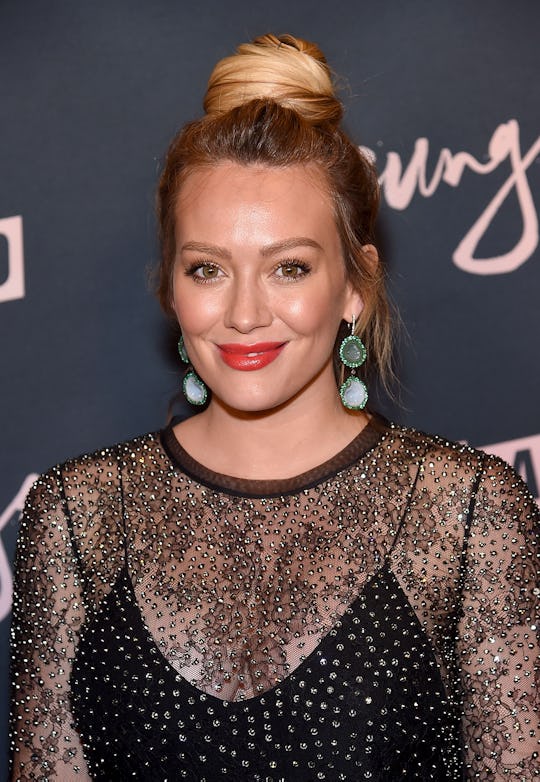 Jamie McCarthy/Getty Images Entertainment/Getty Images
Hilary Duff's Son Chose The Most Hilarious Name For His Future Baby Sister
Moms of multiple kids all know that bringing a new baby into the family is no small task, especially where sibling relations are concerned. Waiting to see how your older children will respond to a new little person sharing your attention and resources is always tense at first, but Hilary Duff says her son chose a name for baby no. 2, proving that he's totally ready to welcome his new little sister.
Duff appeared on a segment of the Late Late Show with James Corden to talk about how her 6-year-old son Luca was responding to the news of her second pregnancy. "The beginning was a little, a little, uh… he was surprised," she said. "Now he's warming up to the idea." Warming up indeed. Duff said they were "open to suggestions" for names, and that Luca actually came up with his own idea for what his little sister should be called... and TBH, it's really funny.
"We're up for any kind of suggestions, but Luca thinks 'Cofant Croissant' is like, the coolest name," she said, according to video of the segment:
There would be no confusion. And when I just refer to it as 'Cofant,' and I'm like, 'That would be so cool, no one at school's going to be named Cofant,' He's like 'Croissant. Cofant Croissant.' It goes together. There's no separating the two.
Though it's unclear whether Duff and Koma will actually opt for Luca's suggestion, the mom-to-be also noted that her son's creativity didn't stop at just names. In fact, she joked that he "told his friend at school the other day that he's having a sister that's part red-butt monkey." She added: "So we'll see! It'll be a first. That'll be really cool."
On Friday, Duff announced on Instagram that she and boyfriend Matthew Koma were expecting a daughter. "Guess what guys! @matthewkoma and I made a little princess of our own and we couldn't be more excited!!!!!!🤰🏼👶🏼🎀," she wrote alongside a photo of them hugging. Koma shared the photo on his page as well, saying: "We made a baby girl! She will be as beautiful and sweet as her mother... @hilaryduff another incredible chapter begins."
Though it's unclear how long the couple has been together, Duff has said they've broken up and gotten back together three times already, according to Harper's Bazaar. Koma worked as writer and producer on some of Duff's music, which is how the pair met, Harper's Bazaar reported. Regarding their on-again-off-again relationship status, Duff explained that she believes love wins out in the end, telling The Talk:
I think that you have history and a past with someone, and love—just because it doesn't work out the first time, the second time, as long as there's not too much damage done, then it can always work out again.
In 2017, Duff opened up about being a single mom, and how common it is to feel as though people are constantly judging you for not being "enough." "I always feel torn or guilty about something," she told Redbook. "I'm not working right now, and at first I stressed about that, like, 'Oh, I shouldn't stay still this long.' And that's ridiculous. I have a child; it's totally fine to not be slammed all the time."
She also addressed the potential of future relationships, saying that people are always focused on "the next big thing," and that at the time, she was just focusing on taking care of her son and being present. "You get engaged: 'When's the wedding?' You get married: 'When's the baby?' You have a baby: 'When's the next one?' I'm cherishing the now," she added.
It's likely that philosophy has already carried over into her future life as a mom of two, and whether that means Duff and Koma will get married or have more kids, it seems the couple is leaving it to chance. Regardless, fans can rest assured that Duff will be sharing all of the heartwarming (and downright hilarious) parenting moments that she's in store for.