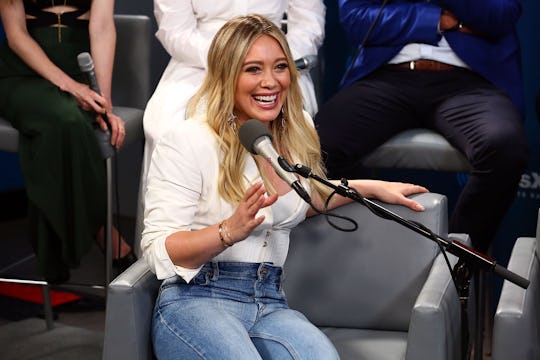 Astrid Stawiarz/Getty Images Entertainment/Getty Images
Hilary Duff Hilariously Captured This Weird Side Effect Of Pregnancy Hormones
Pregnancy has both its perks and its downfalls. The nasty side effects of pregnancy can be hard on any expectant mama, no matter how many times they've experienced them. Take Hilary Duff, for example, who is expecting her second child but her first daughter with boyfriend, Matthew Koma. For example, Hillary Duff recently said pregnancy makes her "gums bleed like a scary monster," perfectly capturing this not-so-pretty pregnancy struggle so many moms-to-be go through.
Duff is currently nearing the nine-month mark of pregnancy with her future daughter, according to E! News, and she is kind of ready for her pregnancy to be over. Just last week, Duff took to her Instagram Story where she asked her baby to "hurry it on up" because is so ready to meet her little girl, as E! News reported.
And Duff's Instagram Story on Tuesday night might point to another reason why she would want her daughter to "hurry it on up" — so she doesn't have to deal with the freakish symptoms associated with pregnancy. On Tuesday night, Duff posted a photo of her sitting in a dentist's chair, ranting to her followers about a side effect of her pregnancy.
"Also pregnancy hormones make your gums bleed like a scary monster so flossing really sucks while knocked up," Duff wrote on the photo. Other moms who have been in her position can definitely relate.
Although it might seem like a scary side effect, bleeding gums are a normal symptom of pregnancy, according to Baby Center, and affects about 50 percent of pregnant women. This is caused by hormonal changes, according to Baby Center, which makes gums a little more tender than usual. This means that pregnant women might see a little more blood in the sink when they go to floss or brush their teeth — like Duff is apparently experiencing.
But, according to What To Expect, gums and teeth should go back to normal after the pregnancy is over. And Duff certainly isn't the only person who has suffered from a bit of blood in the sink during her pregnancy.
When Chrissy Teigen was pregnant with her daughter, Luna, in 2015, for instance, she tweeted that her bleeding gums were a "sexy side effect" of her pregnancy. "I look like mortal combat," Teigen wrote. And Duff is in that same exact boat.
This isn't the first time that Duff has been open about how hard this pregnancy has been for her. In an Instagram post last month, Duff opened up about the struggles she was facing. Duff wrote, according to People:
Lovely to have a little life inside and to day dream of all the new adventures to come buuuut almost impossible to get my own shoes on...sick of getting up 9 times a night to pee and looking at this weird body in the mirror that is not my own at the moment.
Not only can she not get her own shoes on, but she can't even properly celebrate the final episode of her TV show, Younger, airing. On Tuesday night, Duff shared on Instagram that she had to take shots of green juice — as opposed to shots of tequila — to celebrate the episode airing with her cast mates.
Duff has also been experiencing some specific pregnancy cravings. Earlier this month, Duff wrote on her Instagram Story that she made her boyfriend go to six different stores to find her one specific candy, Good & Plenty, just to curb her pregnancy craving, according to People.
Although Duff has experienced quite a few symptoms from her current pregnancy, she is so close to giving birth to her daughter. And, surely, all the bloody gums will have been worth the struggle.