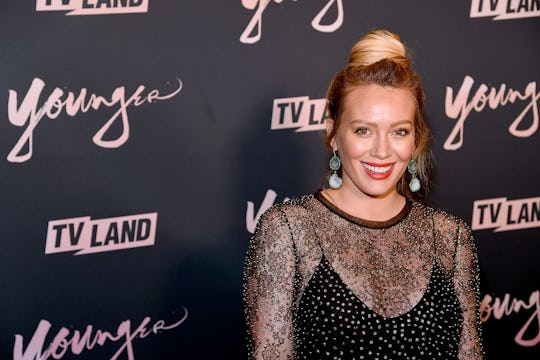 Jamie McCarthy/Getty Images Entertainment/Getty Images
Hilary Duff & Her 6-Year-Old Son Are The Definition Of "Relaxation" In This New Bump Photo
Since Hilary Duff announced that she's expecting her second child, a girl, two months ago, she hasn't been shy from sharing her journey with fans on social media. Sure, Duff has been pregnant once before, giving birth to her son, Luca, six years ago. But during this pregnancy, Duff has been letting fans follow along with sharing sweet photos of her growing bump. In fact, over the weekend, Hilary Duff shared a new bump photo with her 6-year-old son and let me just say, she is glowing.
During this pregnancy, Duff has been pretty relaxed, which sounds good to me. On her Instagram account, Duff has shared photos of herself in bikinis, on the beach, and chilling out poolside with her son and her boyfriend, Matthew Koma. And her newest bump photo posted on Instagram is no exception. In the photo, Duff lays on a lounge chair wearing the cutest bikini that perfectly shows off her growing bump. Luca, laying next to Duff, looks at something on a phone. But both mother and son look so at ease, rested, and just happy to be near each other.
"Max relax," Duff captioned the photo. You can say that again.
But Duff definitely deserves all of the relaxing that she can get — especially since she revealed that this pregnancy hasn't been the easiest for her. Last week, Duff took to Instagram where she got honest with her fans, telling them that her body has changed quite a bit during pregnancy, which has taken her a little bit of time to get used to. Duff wrote, according to People:
The boobs are big the belly is big the body is big. Man..pregnancy is hard. Giving love to all mamas who make it look effortless...this special journey is hard as hell and also incredibly special. Lovely to have a little life inside of me and to daydream about all of the adventures to come buuuuut almost impossible to get my own shoes on...sick of getting up nine times a night to pee and looking at this weird body that is not my own at the moment.
Fans can't blame Duff for feeling this way, especially since it's been quite some time since the last time she was pregnant (which was in 2012, according to People). So, I say, Duff should spend as much time as she wants soaking in the sun and soaking up these last moments as a mom of one.
Although Luca seems a little distracted in the new bump photo, Duff revealed to James Corden during an interview on The Late Late Show with James Corden that Luca is excited to be a big brother, according to Us Weekly, even if he was a little unsure at first after hearing Duff's big news. And now that he knows what is going on, he has been having a little bit of fun with his mom's pregnancy.
"The beginning was a little...he was surprised, and now he's warming up to the idea," Duff said, according to Us Weekly. "I think it's a girl, but he told his friends at school the other day that he's having a sister that's part red-butt monkey, so we'll see. We never know."
OK, so it's not likely that Duff will give birth to a baby that is part red-butt monkey. But, until she does give birth (maybe to a baby that has monkey-like tendencies, as babies do), Duff is clearly enjoying her time hanging out in the sun with Luca.