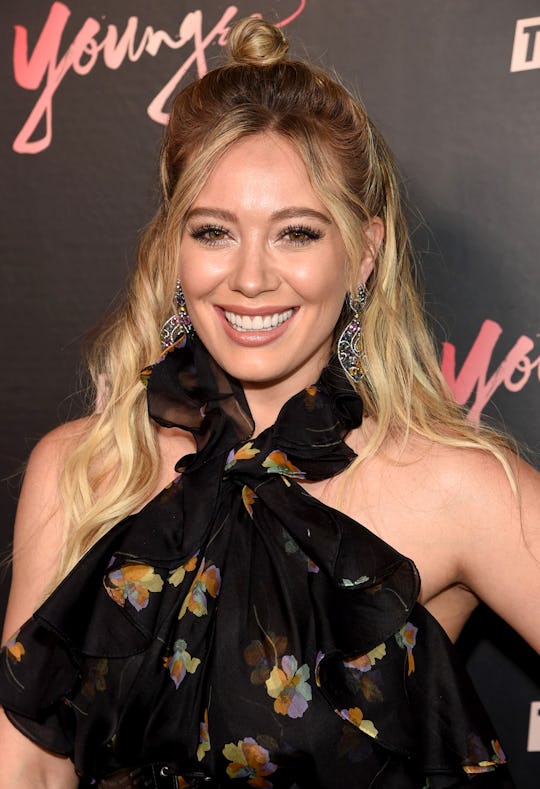 Jamie McCarthy/Getty Images Entertainment/Getty Images
Hilary Duff Thinks 'Younger' Is Making Girlbosses Out Of Women
It may truly shock you to hear it, but even in 2017 gender inequality is still a problem in this country. Women only hold about 20 percent of board seats at the Top 500 companies in the U.S., and it's no secret that Hollywood struggles with its characterization of women, especially women in power. But there are television shows out there that shine the light on complex female characters. TV Land's Younger is one show that really is allowing women to see themselves in powerful female roles, and at the show's Season 4 premiere event, lead actress Hilary Duff explained how Younger is empowering women to be ambitious through characters like Kelsey and Liza.
The series focuses on Liza, played by Sutton Foster, a newly-single mother who struggles to reenter the workforce as a 40-year-old after being a stay-at-home mom for her daughter's childhood. She gets herself a job at a publishing company by pretending to be 26, where she works for Diana (who also happens to be 40), and befriends an actual twenty-something named Kelsey, played by Duff.
Younger strives to break Hollywood's decades-long practice of portraying women who are ambitious or powerful as frigid and unlikable. Think Miranda Priestly in The Devil Wears Prada and Tracy Flick in Election. Duff explains how the show portrays a "large age range of women," each with their own distinct ambitions and motivations. And the fact that Liza and Kelsey were able to develop such a close and mutually-respected friendship, despite their vast age difference, goes to show that that little detail may not be so important after all.
The characters of Younger encourage the show's audience, especially its female viewers, to pursue their ambitions no matter their age or circumstance. That's the message that Younger is sending, Duff says, especially to young people: "go after it, go for it, as long as you know your sh*t and you're confident, and you know your worth, don't take no for an answer."
Why does Duff think you should watch Younger? "There's so much encouragement [to go after your dreams]," she says. The show inspires viewers to go after what they want, while touching on issues like ageism, sexism, or simply trying to balance your work life and personal life. "We get to be girlbosses," says Duff, a.k.a., women who know what they want and aren't afraid to go after it, no matter what that may be.