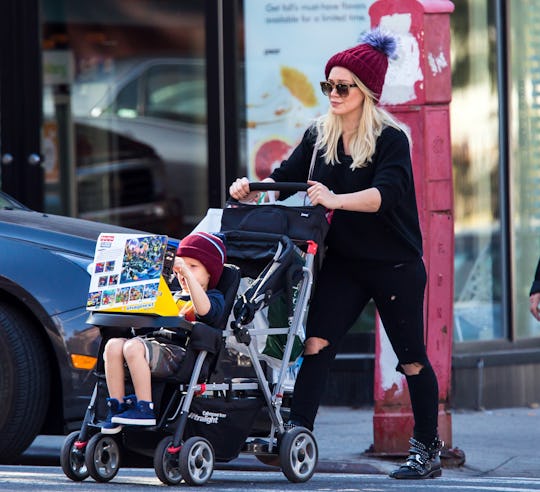 Hilary Duff Told 'Redbook' That She Might Have More Kids Without Being Married & Here's Why That's Totally Fine
More and more parents are opting to have children out of wedlock. Though it is more common, it is still seen as controversial by many — just look at the chaos that occurs when unmarried celebrities decide to grow their families. However, one celeb doesn't see this as a problem, and she even claimed an unmarried parent life may be in the cards for her. In Redbook's February 2016 issue, Hilary Duff said having children out of wedlock isn't out of the question. But headlines about her comment make it clear that her choice is taboo even though it shouldn't be.
In January 2014, the 28-year-old announced she split from former NHL hockey player Mike Comrie after three years of marriage, according to E! Online. The pair had a son, Luca, who is now three years old. "They remain best friends and will continue to be in each other's lives. They are dedicated to loving and parenting their amazing son, and ask for privacy at this time," Duff's representative said in a statement, according to E! Online.
Not only did the Younger actress talk to Redbook about that mean-spirited obsession with her post-baby body, she also weighed in about feeling mom guilt when working on her career — a work-life balance celebs like Carrie Underwood have also admitted to experiencing. Duff described the tension to Redbook:
It's hard to say that you really can have it all. I think you can to a certain degree, but fully loaded, pedal-all-the-way-down is tough. You're missing out on something, either on the career or on the family. When I'm really busy with work, I feel extremely guilty.
But where things got too real is when the topic of having more children came up. Duff had her son while married to Comrie, but, now that they've split, she said she has definitely considered having more children without being married, according to Redbook:
I don't want to say I wouldn't get married again, but it's not important to me. I don't feel I would need to be married to have another child. If I felt strongly enough toward someone or if someone felt strongly about it, I might say okay. But it's not essential.
While this topic shouldn't be taboo, it totally is. You may not remember when Murphy Brown — a fictional character in a show with the same name — was criticized by former Vice President Dan Quayle for being a single mother. And though Murphy Brown, a 40-year-old mom and career woman, was by all means a badass, her inconsequential choice to raise her child by herself — and the backlash that ensued — is her biggest legacy. But that went down in the early 90's. Though it's almost 2016, society hasn't made much progress on this front.
After all, more children are being born to unwed parents nowadays, so what's the fuss? In fact, a 2012 Child Trends study found millennials, specifically half of women under 30, had children out of wedlock. Driving the point home that people just aren't prioritizing marriage before kids is the Centers for Disease Control, which, in 2013, reported that 40.6 percent of children were born to unmarried parents. It's now the norm.
Putting all of this into context, it's quite baffling that Duff's choice to have children out of wedlock, should it happen, would still be so taboo. And the reason why this issue should be, well, a non-issue is simple: because it's her choice, and she is a grown woman. What she does in her personal life shouldn't be up for public scrutiny. That's reason enough. Further, many grown women are making the same choice to raise children without husbands, and whether society accepts that choice should be the last thing on those mothers' minds. As long as they're providing for their children, then archaic ideas about "traditional" families should fade away like black-and-white TV.
Image: Alessio Botticelli/GC Images/Getty Images; Giphy