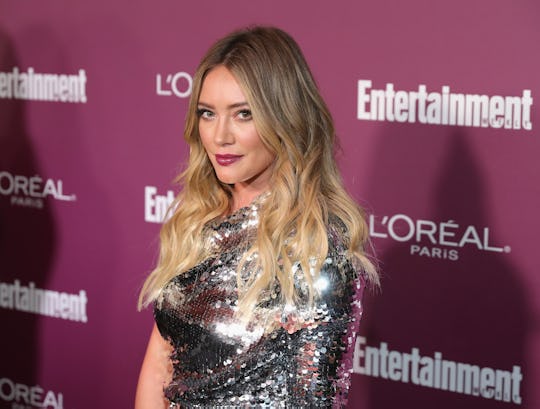 Neilson Barnard/Getty Images Entertainment/Getty Images
Hilary Duff Shared The Sweetest Breastfeeding Selfie With Her Newborn Daughter Banks
Ever since Hilary Duff welcomed her second child, baby girl Banks, last month, it's been so fun to watch her adapt into life as a mom of two. And so far, the Younger actress has proven that she has this job on lock. For example, Hilary Duff's breastfeeding selfie with baby Banks shows she's an expert at multi-tasking and will scoop up any opportunity she can get to nurse her baby in peace.
Duff gave birth to her second child (and first with boyfriend, Matthew Koma) on Oct. 25, according to Entertainment Tonight, which was almost two weeks ago now. And in the days since then, it has become clear that Duff is loving having a newborn in her life, again. Duff often shares videos and photos of her life to her Instagram Story, as she did on Wednesday.
Duff shared a snap of her breastfeeding Banks in her sister's trailer where she sells clothes for her brand, Little Moon Society. Duff filmed herself saying a sweet message to her older sister, Haylie Duff, but while she was doing this, Duff was simultaneously breastfeeding Banks. The selfie with both mom and baby is absolutely gorgeous.
Aside from being a great photo of Duff and her baby girl, this selfie also confirms that Duff is breastfeeding her daughter, although it is a little unclear how long she plans on continuing to do so. Duff told E! News in 2015 that she felt pressure from other moms to breastfeed her 6-year-old son, Luca, when he was a baby. And after she chose to stop breastfeeding, this pressure grew.
"I know I felt judged once — I breastfed Luca for six or seven months and then started supplementing with formula, and I felt judged having that conversation with people," Duff told E! News.
But in 2012, Duff told Us Weekly that breastfeeding was "challenging but wonderful" and told People that it was a very special time for her with her son. Duff said, according to People:
It's such a wonderful bonding time. Just to have your baby thrive and knowing that you're doing that and you're responsible — it's such a rewarding feeling.
Duff is clearly loving the opportunity to breastfeed her daughter, based on her most recent selfie on Instagram. But hopefully Duff will feel less judged, and people will keep their thoughts to themselves, whenever she does decide to stop breastfeeding her daughter in the future.
Given that Duff and Koma have shared so much of their life with Banks with their fans recently, it's seems safe to say that they are going to continue to do so. In the past two weeks, fans have seen Banks hiccup, they've seen her pose alongside her big brother, and what Banks looks like when she is upset.
And now, with Duff's breastfeeding selfie, fans have gotten yet another intimate look into their lives as parents. And the good news is, it doesn't seem like they will be stopping this any time soon.