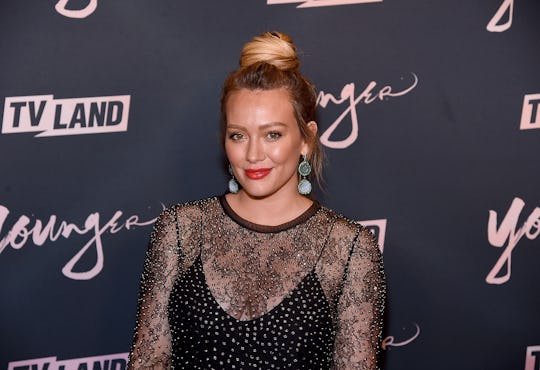 Jamie McCarthy/Getty Images Entertainment/Getty Images
Hilary Duff's Baby Girl Has The Most Beautiful Name
It's official: Hilary Duff is a mother of two. The Younger actress gave birth to her second child, a baby girl, on Thursday, Oct. 25, according to the Instagram Duff used to announce her daughter's arrival. That same Instagram revealed even more important information: what Hilary Duff named her baby girl. per Duff's Instagram, her newborn daughter is named Banks Violet Bair.
Though Violet is the second child for Duff, she is the first for Matthew Koma, whom Duff has been dating on-and-off for over two years, according to Harper's Bazaar. Duff's first child, Luca Cruz, is six years old and from her marriage to NHL pro, Mike Comrie. Duff and Koma announced they were expecting a daughter in June 2018, as People reported, and have been keeping their fans and followers up to date on social media ever since.
Now that baby girl Banks is here, Duff and Koma's fans and followers seem almost as psyched as the newborn's parents. Many took to Twitter to share their excitement, as well as how much they really love the name Duff and Koma chose for their little one.
Here's a taste of how the Twitterverse is reacting:
One devotee even went so far as to say that Banks Violet Bair is "the most beautiful name on the planet," as seen below:
There were also a few old school fans on Twitter who were feeling nostalgic (see: old) after hearing Duff's happy news.
As for what, exactly, Banks Violet Bair means... well, that's unclear for now. Banks could very well be a family name, as could Violet and Bair. However, according to Ancestry.com, Banks is of English and Scottish descent and is a "topographic name for someone who lived on the slope of a hillside or by a riverbank." As for Violet, the meaning is simple: purple, as per Nameberry.com. While that isn't exactly very deep, the Smithsonian Gardens claim that a white violet symbolizes "innocence."
Last but certainly not least we have the name Bair, which seems to have a more complicated past attached to it. While Ancestry.com claims Bair is just an altered spelling of German Baer, which allegedly means exactly what you're likely already thinking: bear. However, HouseOfNames.com claims that Bair "literally means Bavarian," as in a native descent of Bavaria. This leads me to believe that Bair is a family name passed down to little Banks, but only Duff and Koma can confirm that.
For now, it seems Koma and Duff are too busy being smitten with their daughter to care about the different meanings behind all threee of her names. As Koma wrote on Instagram, "We welcome a beautiful daughter, little sister, and best friend for life. Could not possibly be more grateful for our growing family."
If that alone doesn't melt your heart, you might want to double check that you actually have one. In the meantime, I can't wait for more exciting updates about Banks Violet Bair from the Duff-Koma family!