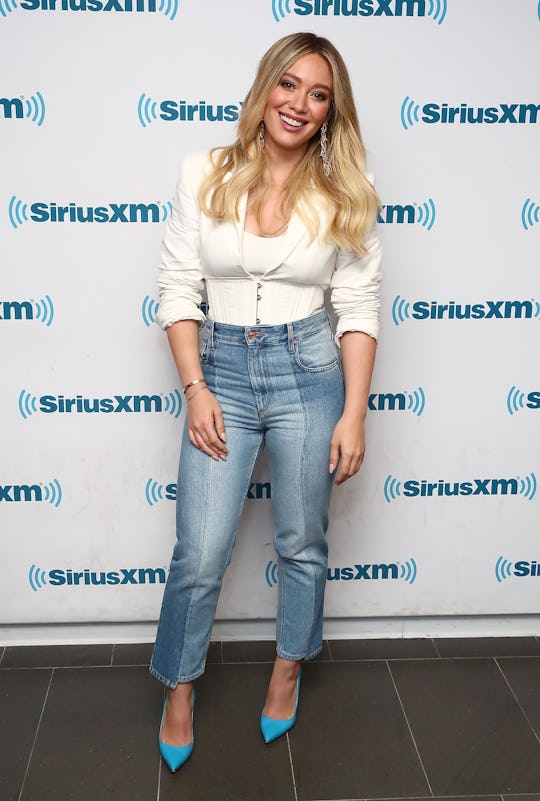 Astrid Stawiarz/Getty Images Entertainment/Getty Images
Hilary Duff's New Family Photo Shows Off Every Family Member's Personality
Hilary Duff's little family expanded to a family of four in October after she gave birth to her second child (and first with boyfriend, Matthew Koma). Since then, it seems as if Koma, Duff, and her 6-year-old son, Luca, have been getting the hang of having a newborn in the house. If this wasn't clear enough, Hilary Duff's new family photo shows that their blended family is absolutely adorable and so natural together.
It's kind of hard to believe that Duff only gave birth to her daughter, Banks Violet Bair, almost exactly one month ago on Oct. 25, according to E! News — especially since she has been sharing so much of her daughter with the rest of the world since giving birth. Over on Instagram, both Duff and Koma have posted the absolute sweetest photos of Banks, showing just how much love they have for their little girl.
But, Duff's newest photo with Banks, posted over the weekend to Instagram, might be the sweetest yet. In the first family photo of the foursome that Duff has shared on social media, Duff and Luca can be seen making the silliest faces in front of the camera, as People noted, while Koma looks at Duff with a sort of an "oh this again" look on his face. The family looks super chic in their mostly-black outfits. But Banks stands out amongst her super silly brother and mom in her pink swaddle. Instead of looking as hilarious as her other family members, Banks kept her composure, keeping the most peaceful and serene expression on her face. Because someone has to keep it together.
Even Duff was aware that her daughter made their family look just a bit out of control. "Banks ... you gotta try harder," Duff hilariously captioned the photo.
Although Duff might want Banks to keep up with the family's goofiness, I see this photo a little differently. If anything, Banks' expression indicates that she will perfectly balance out their family of four — Banks and Koma can be the "serious ones" while Duff and Luca can be "the silly ones."
Although Banks might stick out just a bit in this family photo, it's obvious to everyone that she perfectly fits right in with them. This photo perfectly shows off all of their personalities so well that some fans think this photo is picture perfect.
"I think this could be a great potential Christmas card photo," one commenter on Instagram wrote.
If only getting the perfect Christmas card photo was that easy. Plus, some parents wouldn't dare to put such a silly photo at the forefront of all of their holiday wishes in the first place. But given that this is the first time that people have seen the family of four together in a photo (at least on Duff's Instagram account), Duff could not have picked a better choice for showing off her full family together for the first time.
Duff's decision to embrace her family's goofiness and post the photo sounds just like her decision to give birth without medication. In an interview on Dr. Elliot Berlin's Informed Pregnancy podcast, Duff said that she knew she wanted to try unmedicated childbirth with the birth of her second child.
"My body gave birth to this incredible little boy and now I get to have this little girl and I want to experience it to the fullest," Duff said of her decision, as per People.
In addition to experiencing childbirth to its "fullest," it sounds like Duff is fully embracing life as a mom of two. Although it might cause her to make some pretty silly faces, Duff's newest family photo shows that being a new mother of two is what dreams are made of.