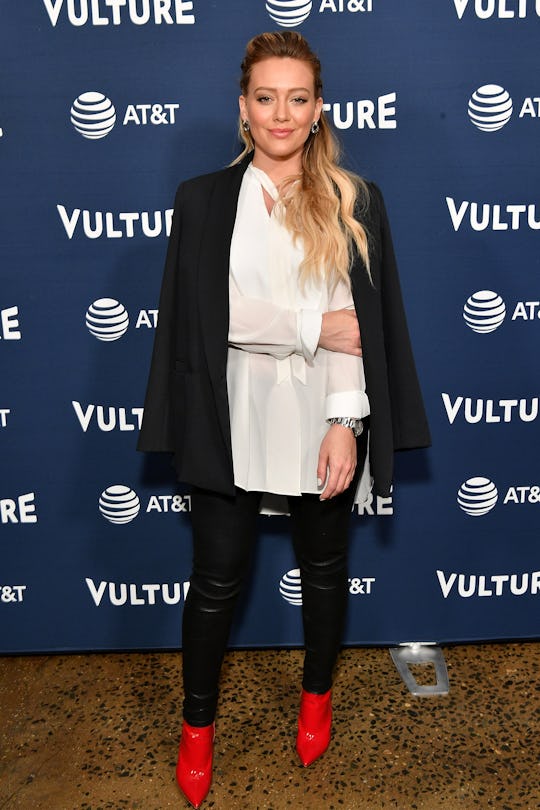 Dia Dipasupil/Getty Images Entertainment/Getty Images
Hilary Duff's New Photo Of Baby Banks & Luca Is *So* Cute
Hilary Duff's journey to becoming a mom for the second time has been nothing short of amazing to watch. After becoming a mom in 2012 for the first time, when she gave birth to her son, Luca, Duff got to experience that very moment again this year in October when she gave birth to her daughter, Banks. It's clear that she has been loving being a mom again — and by looking at Duff's new photo of baby Banks and Luca, you can see just how much love she has to give.
Duff had so much to be thankful for this Thanksgiving — and she is well aware of this. This year, Duff celebrated her first Thanksgiving as a mom of two, according to People, which made her so much more grateful for her life and the things around her. This could not have been more apparent by her Instagram post over the weekend, which pictured the cutest sight ever.
In the photo, posted to Duff's Instagram account, Duff's 6-year-old son Luca can be seen wearing an oversized shirt kneeling on the floor, tenderly holding his baby sister. Meanwhile, Banks looks so cozy cuddled up in her brother's arms. You can sense how tender this moment truly is — and it's so incredible that Duff was able to capture such a beautiful moment between brother and sister on camera (especially since it will only be a matter of time before her kids start arguing).
But this photo celebrated something much greater than a tender moment between brother and sister — it celebrates a major milestone in Banks' life.
In the caption, Duff wrote that it has officially been four weeks since she gave birth to Banks — which makes sense, since she gave birth to Banks exactly one month ago on Oct. 25, according to E! News. So, Banks is officially celebrating turning one month old — which is incredibly exciting.
Seriously, it feels like no time has passed since Duff has given birth. In the month since giving birth, Duff has eaten her placenta, discussed the woes of parenting advice with People. and even talked about her birthing plan on a podcast. It's hard to believe that it's only been one month since then because she's been so honest about her new life as a mom of two and has had no problem sharing this part of her life with her fans. That is so awesome.
On top of celebrating Banks turning one month old, Duff wrote in the caption of the photo that she was so grateful to give thanks for her two kids this holiday season. "These two are my greatest joy," Duff captioned the photo. "#gratefulEVERYDAY," she added.
People should take a note out of Duff's book. Although Thanksgiving seems like the only time of year where people can give thanks for the things in their life, Duff's caption serves as a reminder that it is important to be grateful for the things in your life all year long. But at the end of the day, if you had kids as cute as Duff's, you too would be just as thankful.
But Duff isn't the only one who is grateful for her kids this holiday season — Duff's boyfriend (and Banks' father) Matthew Koma is just as thankful for their blended family. Koma's Instagram account is rife with photos of their sweet little girl — and you can tell that Koma is so thankful to have become a dad this year.
The best thing about this holiday season is that Duff's gratitude for her family won't end here — fans will get to see adorable photos of Banks and Luca for weeks to come.
And there really is nothing better than that.
Season 2 of Doula Diaries shares the stories of fearless doulas helping their clients take control of their births and make tough choices that feel right to them. Watch the first episode of the new season Monday, November 26th.