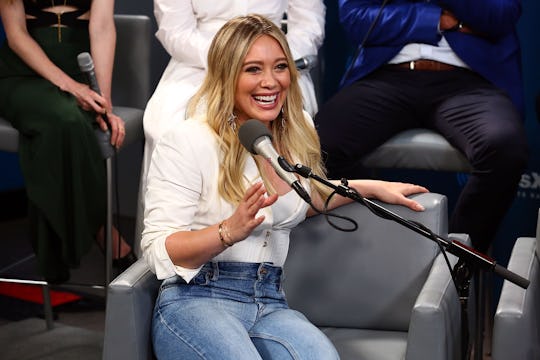 Astrid Stawiarz/Getty Images Entertainment/Getty Images
Hilary Duff's Newest Photo With Baby Banks Proves That Sleep With A Newborn Is Possible
When Hilary Duff first announced earlier this summer that she was expecting her second child, fans were super happy that the former Disney Channel star was so open to sharing her pregnancy with them. And now that her new baby is finally here, Duff is just as excited to share every new and exciting moment with her daughter, with her fans. Really — Hilary Duff's newest photo with baby Banks proves that she's going to be just as happy to share these new, intimate moments with them.
Duff and her boyfriend, Matthew Koma, welcomed their first child together — a daughter named Banks Violet Bair — on Oct. 25, according to E! News. But Duff waited almost one week after her big day to announce the very exciting news on Instagram, according to ABC's Good Morning America. "This little bit has fully stolen our hearts," Duff wrote. "She joined our world at home on Thursday afternoon and is absolute magic."
In the one-and-a-half weeks since Duff made the post, she has slowly become more comfortable sharing bits of her daughter with the world, and her newest post on Instagram is just as sweet as her announcement. On Saturday, Duff shared a photo of Banks sleeping so soundly on her shoulder and looking super peaceful — while Duff herself snuck in a much-needed nap.
"Night night world," Duff captioned the photo.
Duff is currently readjusting to life with a newborn (she's also the mom to 6-year-old son Luca with ex-husband Mike Comrie, according to E! News) — and new moms know that you need to embrace any chance for sleep that you can. So, it's so understandable that Duff took a nap against her daughter when she finally had a moment of peace. Although people should have been congratulating Duff on getting some rest, commenters on Instagram were more focused on how adorable she and Banks looked together.
"This is everything," one commenter wrote. "I grew up on your stuff and now I'm a mom, still looking up to you. Get some rest, Hilary."
"I miss those first few weeks of cuddles and naps," another mom added.
"This is what dreams are made of," one commenter cleverly stated, referencing Duff's song from her 2003 film, The Lizzie McGuire Movie. Although that would have made a very fitting caption, Duff's works just as well.
This wasn't the first photo (or video) that Duff shared of Banks over the weekend. On Sunday, Duff took to her Instagram story, where she revealed that her daughter is one hungry baby. "Just waiting to feed this baby," Duff said in her Instagram story on Sunday. "That's my job all day every day. She's so hungry." Yet another thing that moms can relate to.
And on Friday, Duff took to her Instagram account (yet again) to share the sweetest video of Banks hiccuping. The video was super adorable — not because of Banks' round of hiccups — but because fans were able to see her with her eyes open. She looks so much like Duff.
In the past few days, it has been increasingly clear that Duff is beyond happy to be a mom to her newborn baby. Although being a new mom might come with a lack of sleep, it's obvious that Duff is embracing every moment that she can with her daughter (even if it means napping with her).