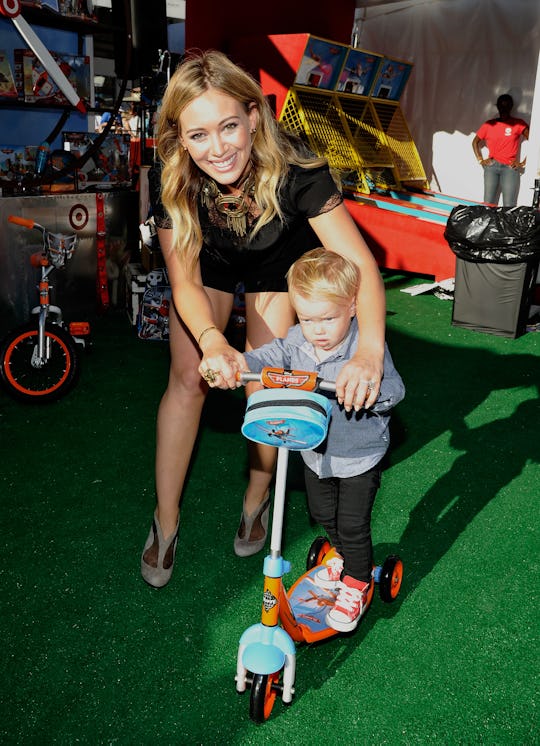 John Sciulli/Getty Images Entertainment/Getty Images
Hilary Duff's Quotes About Her Postpartum Body Will Totally Inspire You
Given her viral swimsuit Instagram post, many are lauding Hillary Duff as a new role model for body positivity. But fans who've paid attention to her commentary in the past might already know that she's been spreading the self-love for some time now. Hilary Duff quotes about her postpartum body show her evolving relationship with her postpartum body, and her constant support for others to be proud of their own strength. Her message strikes a chord with so many, and for good reason.
Duff's viral postpartum body Instagram showed a photo of her from behind, holding her son at the beach. "Since websites and magazines love to share 'celeb flaws'," she writes, "well I have them!" She then continued with this advice:
Ladies, lets be proud of what we've got and stop wasting precious time in the day wishing we were different, better, and unflawed. You guys (you know who you are!) already know how to ruin a good time, and now you are body shamers as well.
Her perfect seal on the post? A hashtagged "kiss my a**." Duff has insisted before that, regardless of appearance or aesthetics, a postpartum body is an incredible thing, as it's capable of creating and sustaining life. Duff won't let this be forgotten, saying:
I'm so proud of my body and what it's done for me. It gave me the most beautiful little boy and I feel strong and powerful and I wanted to inspire other women.
But it hasn't always been this easy for her. In April of 2015, Duff explained that she used to obsess over celebrity bodies that appeared to have gotten into shape so quickly post-baby. Though it took her some time, Duff was able to recognize:
My body is never going to be what it was. I have stretch marks, my boobs are different — much different! And that's fine and I'm happy with them.
And she's not afraid to call out others who are killing her vibe. In December of 2015, Duff critiqued how the media approaches post-baby bodies, sharing her personal, post-baby account and how ridiculous the backlash was to it:
After I had Luca, I went out to, like, the breast-pump store—I was still huge—and I just had a comfortable outfit on. And the next day [in the tabloids] it was like, 'Hilary debuts post-baby bod!' And I was like, 'That's not a debut! That's an errand!' It was such a happy time that honestly I didn't care; it wasn't until later that I realized how mean and invasive it was.
Her confidence is truly inspiring. Duff cheered for strong moms everywhere In June of 2016, celebrating:
I don't care to look absolutely perfect in a bathing suit. I'm a normal girl. I'm strong. I'm fit. I feel good about myself after I've had a baby.
So keep on doing you, Hillary Duff. Women everywhere are looking up to you, following your lead, and learning to accept that their bodies may never be "perfect," because perfection is an arbitrary standard. Moms everywhere know that there are much more important things than contriving an appearance that pleases everyone, and Duff's messages have been the best reminder.