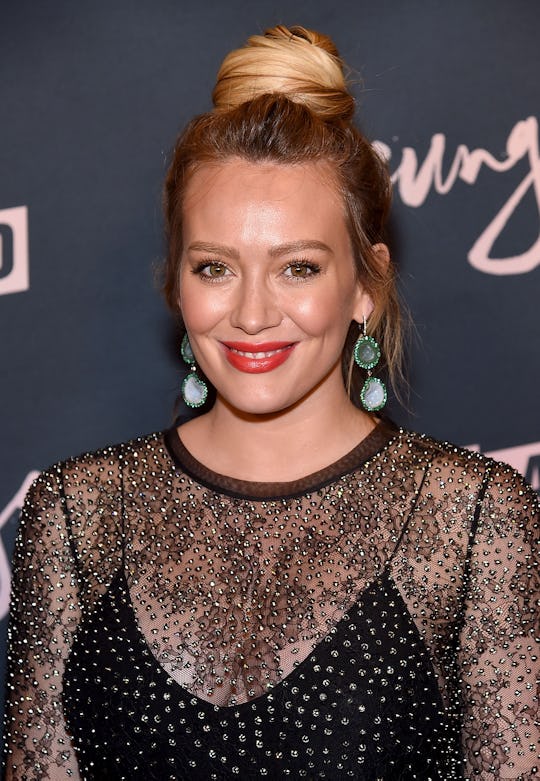 Jamie McCarthy/Getty Images Entertainment/Getty Images
Hilary Duff Is Grateful For Older Brothers This Year — PHOTO
Sometimes you just gotta slow down and enjoy the little things and Thanksgiving is a really good time to do that. It's all about friends, family and being grateful for what you have, while taking a break from the hustle and bustle of everyday life. Take a cue from Hilary Duff's most recent social media post, which is chock full of those motherly love vibes. Hilary Duff's sweet photo with son Luca reminds moms why first borns are so special.
In the photo, Duff can be seen with her arms around 6-year-old Luca, who looks cute as can be with gray suspenders and a red bandana around his neck. Looks like he's soaking up the special time with mom because chances are he's not getting much one-on-one time now that his baby sister is in the picture. As you likely know, infants require a lot.
Her caption simply said:
"Thankful for this big brother❤️"
Duff's daughter, Banks Violet Bair, was born on Oct. 30 and is her first child with boyfriend Matthew Koma. Duff's ex-husband, Mike Comrie, is Luca's father, according to The Cut.
So what's life like for Luca now that his baby sister has come to roost?
"No matter how old (or young) your firstborn is, she'll have some adjusting to do when a brother or a sister comes on the scene," Renee Bacher wrote in an article for Parents.
Little Luca is no different. In April, Duff admitted that Luca was unsure about his new role as big brother, according to E! News.
"He's on the fence, but I think that everything will be fine when she arrives," Duff told Today, as reported by E! News.
This is all par for the course, according to a guest post by Hindie M. Klein for Psychology Today. It's completely natural for a child to be wary of a new sibling.
The second child poses a different dynamic than the first. Not only do you have to accept the joy and work of a new baby, there are the feelings of the Only to deal with. It is not as hard as it sounds. Give your Only some precious private time, get him or her involved with the baby and teach the pleasures of family time — and play. Over time your Only No More will join you in welcoming the new baby.
However, there are a few things parents should expect and do before a new baby arrives to help older kids deal, according to Healthy Children.
This includes knowing that your child may regress a little when new brother or sister arrives. Experts also suggest letting your child help prepare for the baby, so they are a part of the whole process.
When little sister finally arrived, an over-the-moon Duff posted a photo of baby Banks with her mom and dad on Instagram:
"Banks Violet Bair❤️ this little bit has fully stolen our hearts! She joined our world at home on Thursday afternoon and is absolute magic ✨"
Her boyfriend, Koma, posted the same pic with this caption:
Banks Violet Bair /// 10.25.18 /// We welcome a beautiful daughter, little sister, and best friend for life. Could not possibly be more grateful for our growing family and for the 🍊 who makes it all possible. Cloud ten.
Now, the new family of four is settling in to a new routine. Here's hoping that Duff continues to snag little moments of mommy-and-me time with Luca through out the holiday season and that fans get to see it all unfold on her social media accounts. With a family that beautiful, why not share!
Season 2 of Doula Diaries shares the stories of fearless doulas helping their clients take control of their births and make tough choices that feel right to them. Watch the first episode of the new season Monday, November 26th.