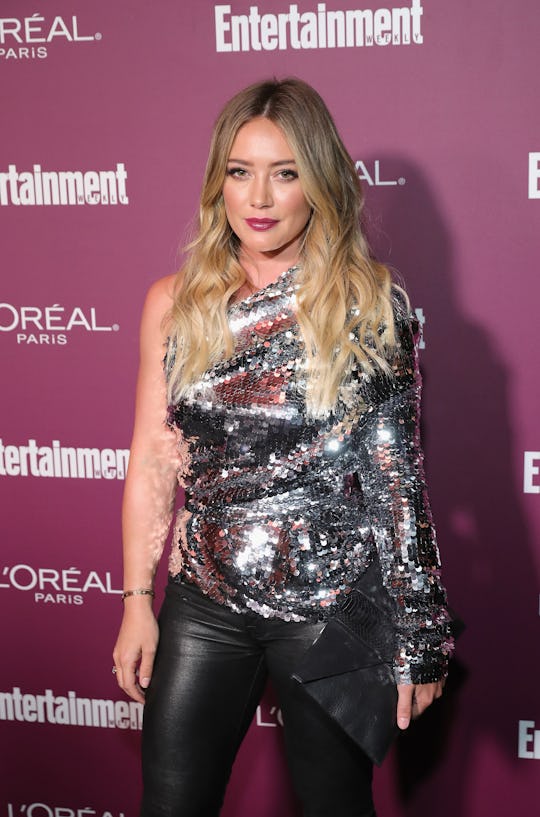 Neilson Barnard/Getty Images Entertainment/Getty Images
Hilary Duff Learning Her Baby's Sex In This Video Will Instantly Give You Goosebumps
Mother's Day 2018 was definitely one to remember for Hilary Duff. The actress has been celebrating the holiday for several years now, as she is a mother to Luca, 6. But this year, Duff decided to turn Mother's Day into a sex reveal party, since she is pregnant with her second child. And Hilary Duff's video from her baby's sex reveal party shows how excited she — and her whole family! — are to be welcoming a baby girl.
Duff shared footage from the party on Instagram on Tuesday, about six weeks after Mother's Day. "A few months ago we had one of the most exciting Mother's Day! Filled with amazing friends, family, mothers, and neighbors❤️It was such a fun surprise!" she captioned the video on Instagram, implying that the event was a surprise party.
"I can't think of any other way to find out what was cooking in my belly than this," she continued. "The anticipation was brutal but the pay off was huge! I basically jumped 3 feet off the ground lol 💖 #hurryuplittlegirlwewanttomeetyou."
In the video, Duff, her boyfriend Matthew Koma, and nearly 20 other family members and friends gathered on a lawn. After a countdown, they released party poppers to reveal endless pink confetti and smoke, denoting that Duff was pregnant with a girl.
As soon as Duff saw the pink confetti, she started jumping up and down excitedly and then hugged Koma. All the adults in the video looked pretty thrilled to see pink, while most of the children looked alarmed by the tiny canons launching all around them. (In fact, Luca's popper didn't appear to go off in the video — whoops!)
Koma also took to Instagram on Monday to share another look into the sex reveal party. Alongside a photo from the event, Instagram with a short and sweet caption. "It's a girl," he wrote.
As if all that wasn't enough of an indication of Duff's excitement, she opened up about her desire to have a girl on Ryan Seacrest's radio show On Air with Ryan Seacrest earlier this month, as People reported. According to People, she told Seacrest:
I was so nervous beforehand because I thought for sure I was going to have a boy ... It was funny that I cared so much, ... My sister has girls and I feel like I'm really girly. But for the past six years I've bought monsters and trucks and planes and Luca's into all the boy stuff, so everything's blue and green and I was just ready for pink and purple stuff.
Duff and Koma first announced they were expecting in an Instagram post earlier this month. "Guess what guys! @matthewkoma and I made a little princess of our own and we couldn't be more excited!!!!!!🤰🏼👶🏼🎀," Duff captioned a photo of Koma smooching her on the cheek. Koma posted the same photo on Instagram. "We made a baby girl!" he wrote alongside the shot. "She will be as beautiful and sweet as her mother... @hilaryduff another incredible chapter begins."
Since revealing she was expecting, Duff has dropped a few hints about her upcoming bundle of joy. Earlier this week, she Instagrammed a photo of herself and Koma with the following caption:
Everyday we are growing...Baby B is growing ...growing is nice with you ❤️
Fans quickly began commenting on the post, speculating that their daughter's name would begin with the letter B. However, as one particularly astute commenter noted, B might just stand for the baby's last name. "Baby B as in Bair, his last name," the fan commented on the photo. While Koma is a pretty cool last name, it's a stage name. His real last name is Bair, as People reported, so if Duff and Koma plan to give their baby Koma's real last name, Baby B may simply be short for "Baby Bair."
Duff and Koma's baby girl is clearly coming into a loving family, and I personally can't wait for the birth announcement when Baby B is finally here.