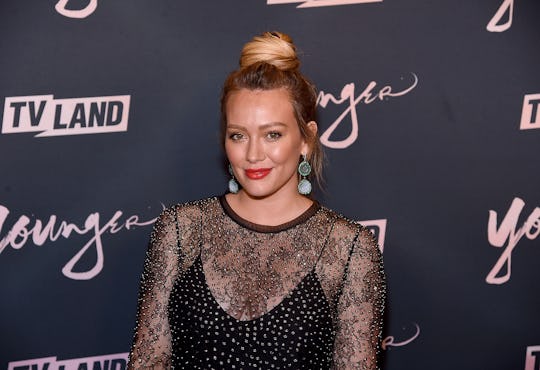 Jamie McCarthy/Getty Images Entertainment/Getty Images
Hilary Duff Documented Baby Banks Hiccuping & It's The Cutest Thing You'll See Today
After anxiously awaiting the end of her pregnancy, one of America's sweethearts delivered a healthy baby girl last week. And Hilary Duff's video of her newborn daughter hiccuping and sneezing is proof that the new mom is smitten with her baby, down to the last detail. Duff candidly shared her pregnancy journey with her large fanbase, so it is no shock that she is including the public in her postpartum bliss.
Duff and boyfriend Matthew Koma first announced the pregnancy via Instagram in early June, sharing the baby's gender in the post as well. "Guess what guys! @matthewkoma and I made a little princess of our own and we couldn't be more excited!!!!!!" Duff captioned her post, according to TODAY. In the following months, she opened up about the struggles associated with her pregnancy, along with her impatience to meet her little girl.
Baby Banks Violet Blair made her appearance on Oct. 25, as E! News reported, and swiftly stole the hearts of her parents. "This little bit has fully stolen our hearts! She joined our world at home on Thursday afternoon and is absolute magic," Duff captioned her birth announcement Instagram post.
Koma also announced Banks' birth on his Instagram account, writing "We welcome a beautiful daughter, little sister, and best friend for life. Could not possibly be more grateful for our growing family and for the [orange] who makes it all possible. Cloud ten."
A week later, and Duff shared another adorable update.
This time, the proud mama included a short video clip of little Banks. She can be seen with a sweet set of hiccups, as well as an itty-bitty baby sneeze. "Little bean is a week old today!" she captioned the video, adding a string of emojis. "She really nails hiccups and sneezes." Banks is Duff's first child with Koma, but their blended family includes Luca, Duff's 6-year-old son from her previous marriage.
As any parent to multiple can tell you, adding another baby to the mix and taking away your eldest's only child status is a delicate thing. Duff opened up to Parents about the experience of breaking her big news to Luca. Suffice it to say, he was less than thrilled at first:
We had an awesome weekend together and I was like, "I've got to tell you some pretty big news." He thought I was joking at first and he burst into tears and was like, "Why, why, why?" I obviously felt terrible and I was like, 'I made a huge mistake.' But, we talked about it and now he is great.
But since then, he has really come around — aside from a few lingering concerns:
I'd say most days he is really excited about it and other days he's like, "Is she going to drool all over my stuff?" There is still concern that I am going to have enough time for him and I worry about those things too.
Bringing baby Banks home has been an adjustment for everyone involved, but the family is through the moon. Throughout her pregnancy, Duff repeatedly spoke out about how ready she was to hold her baby in her arms, instead of in her tummy. After going past her due date, she joked in her Instagram Story on Oct. 24 about evicting little Banks writing, "Yo... Your hotel stay is over little girl," Yahoo! reported. Fortunately, her wait wasn't long from there.
The first few weeks with a newborn are full of bonding, snuggles, and struggles to find your groove as a family. Duff and Koma seem to be soaking in every minute of that precious time with Banks. As for me, I'll be watching that little sneeze on repeat. I mean seriously, is there anything cuter than baby sneezes? No. The answer is no.