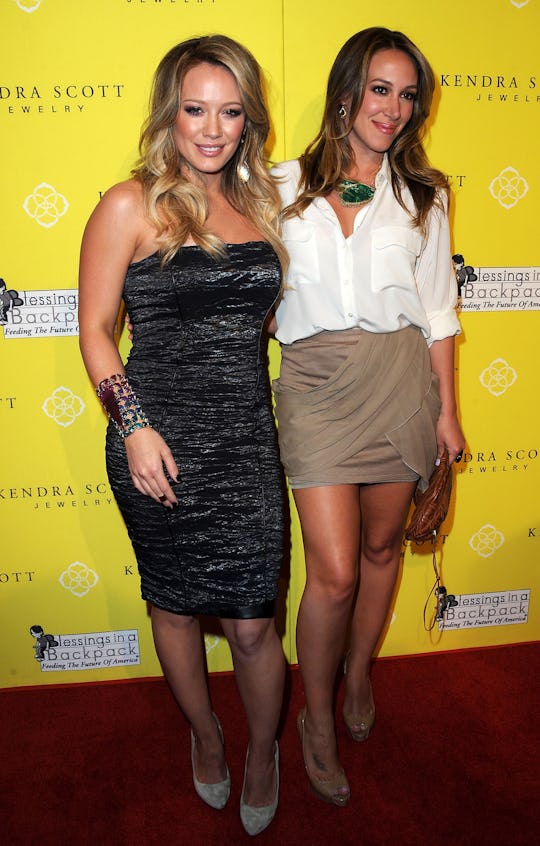 Valerie Macon/Getty Images Entertainment/Getty Images
Hilary & Haylie Duff Don't Share Parenting Advice For A Pretty Important Reason
Sisters have a special bond, and when they do things together, they take it seriously — just ask Hilary and Haylie Duff. The sisters were pregnant at the same time and delivered their babies (both girls) just five months apart. So what do they chat about? The usual — recipes, fashion, relationships, pretty much what you'd expect. But one thing that never gets shared? Parenting advice. Hilary and Haylie Duff don't share parenting advice, but it's actually for a pretty important reason.
Any mom can tell you that parenting advice comes fast and furious the moment your baby bump starts to show, so it's nice that the sisters are aware of just how polarizing advice can be.
Together, the Duff sisters made a pack to be supportive of each other no matter what kind of parent each other becomes.
"We try to listen to each other and be there for each other," Haylie said in an interview with People. "Everyone has so much advice all the time, so we really just try to support each other whenever we feel like venting or talking something out."
Parenting advice can be a dicey thing, whether it comes from a stranger or a trusted family member, Barbara Rowley, a writer at Parenting wrote in an article that was re-published on CNN's site.
"Getting unwelcome input from people you don't know is annoying. Yet it's somehow even worse to hear it from people who know you well, since their remarks can pack an extra punch," Rowley wrote.
All too often, moms leave the situation feeling attacked and defensive. It's one thing to ask for parenting advice, but it's another to receive it unsolicited. And if it's not a friend, family, or outright stranger doling out advice, it could also be a babysitter who may feel that they can say something, Rowley continued.
"There's a fine line between being super helpful and super annoying, and even the best sitter or daycare provide may not be aware when she's crossing it and butting in."
Just because sisters might be close, doesn't mean input on parenting advice is any more welcome when it's coming from them. But being pregnant together was no doubt a very special experience for Hilary and Haylie. Haylie's daughter Lulu Gray was born in June and Hilary's daughter Banks Violet was born in October, according to People.
The bond of sisterhood is so strong between the Duffs that Haylie was secretly hoping she could give older daughter Ryan, 3, a younger sister.
"Truthfully, we really wanted another girl. My sister and I have such a special relationship. Ryan could have that bond of sisters," Haylie told People.
This is the second child for both of them. Haylie is already mom to Ryan Ava Erhard and Hilary has six-year-old Luca Cruz, according to Entertainment Tonight and People.
Currently, Haylie is host of The Real Girl's Kitchen, which is based on her blog and cookbook and airs on the Cooking Channel. Hilary continues to act and is currently staring in the hit show, Younger on TV Land, according to Entertainment Weekly.
With a brood ranging from newborns to elementary school-aged, the Duff sisters have a long and happy road of motherhood ahead of them. Judging by social media, they love sharing photos of their family. Here's hoping they continue to support and love one another, minus any talk of parenting advice, of course.