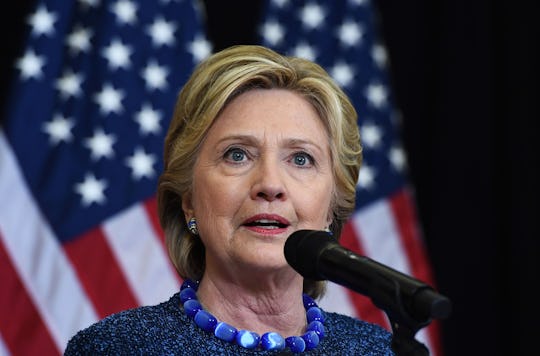 JEWEL SAMAD/AFP/Getty Images
Hillary Clinton Allegedly Concedes Election After A Long Election Cycle
After a long election season, Democratic presidential nominee Hillary Clinton has conceded the election, according to CNN. The Democratic candidate allegedly called Republican candidate Donald Trump early Wednesday morning after losing key battleground states. Shortly after, vice-president elect Mike Pence and Donald Trump took the stage in New York City to accept the White House.
It was a long election night, but when it was clear that Trump had 268 electoral votes and Clinton just 215, the Democratic candidate called her opponent to give him the go-ahead to give his acceptance speech. To win the presidency, a candidate has to have 270 electoral votes, so it was clear before midnight that Trump had won the votes necessary to win the Oval Office.
Clinton told CNN that she wouldn't make a statement early Wednesday morning. Throughout the campaign season, Trump made it very clear that he would be watching the election returns and would keep American voters in "suspense" about whether or not he would accept the results of the election. The fact that Clinton conceded quickly, early, and without much media coverage is a testament to her candidacy and career in public service. The loser of a presidential election has to concede as quickly as possible to keep the process moving.
Clinton was right to concede as quickly as possible, if only to stay true to what she said she would do if she lost the election. During the third presidential debate, Trump said that he wasn't sure he would accept the results of the election if he lost. Clinton said that his plan to contest the election was "horrifying."
Clinton was true to her word then, by conceding the election on Tuesday night as soon as it looked like there was no other way for her to win and hand the election to Trump. If anything, it was a historic move.