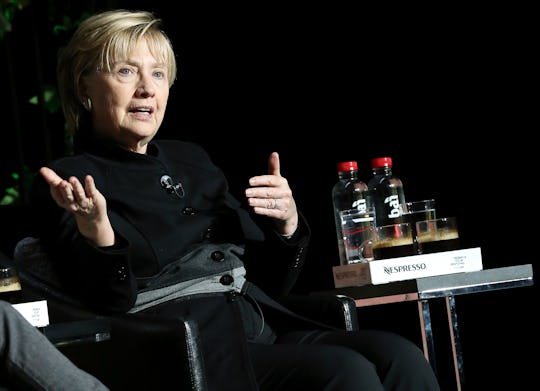 Monica Schipper/Getty Images Entertainment/Getty Images
Hillary Clinton Applauds The March For Science
On Saturday, thousands of people from all over the world came together in solidarity to march in the name of one thing — science. From the climate to our health, science plays a huge role in our society, and marchers wanted to make that clear. Protest organizers claimed the non-partisan march was still political, and that the goal was to hold politicians accountable — and now, many politicians themselves are weighing in on the march itself. During a surprise appearance at the Tribeca Film Festival on Saturday, former FLOTUS, presidential candidate, and Secretary of State Hillary Clinton applauded the March for Science during a surprise appearance, proving that the march definitely grabbed the attention of more than just the media.
While Clinton is no longer in political office, she still has a very important voice in this nation. When she speaks, people take note, as her opinions and thoughts are valued — which is why Clinton's comments about the March for Science are so important. During Saturday's appearance, Clinton made it clear that humans must actually do things to help our planet on behalf of science, urging people to "protect the earth and all its beauty."
"It is Earth Day, and we are marching on behalf of science," said Clinton, who was speaking on a panel for Katheryn Bigelow's documentary, The Protectors: A Walk In A Ranger's Shoes, according to The Hollywood Reporter. "Part of science is understanding the intricate relationships with those we share with those on this planet."
This is not the first time Clinton publicly applauded marchers for protesting. In January, Clinton tweeted and openly spoke in support of the Women's March on Washington. "We have to keep up the momentum," Clinton said at the time.
And that what marchers did on Saturday — keeping up the momentum of the Women's Marches that occurred four months ago by coming together on Earth Day and standing up for science and facts. In addition to the main march in Washington, D.C., protestors gathered at over 600 satellite marches all over the world, according to CNN, to "support science and evidence based research" in the face of President Donald Trump's proposed budget cuts. The scientific community normally remains quiet when it comes to protest, according to The Atlantic, but it seems the recent proposed budget has struck a nerve.
On Saturday, scientists from various fields and supporters of the work they do (or supporters of facts and data in general) turned out in droves to join the march. And it came at a great time, too — after all, our own president doesn't have the greatest history with speaking about the environment and climate change himself, so someone needed to stand up and do it.
The March for Science showed politicians and the rest of the world that science matters — it's just as important as standing up for the rights of others. Hillary Clinton's comments about it, and the many vocal supporters who turned out over the weekend are further proof that people are ready to do whatever is necessary to ensure facts and proof are mainstays of the U.S. political conversation.