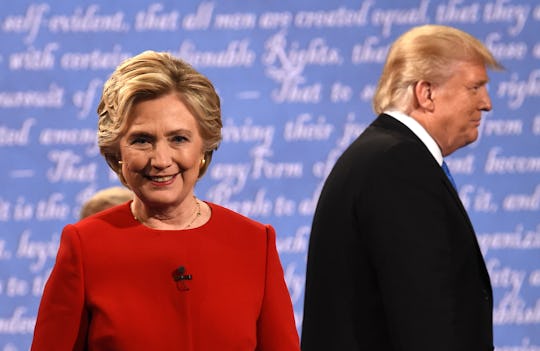 TIMOTHY A. CLARY/AFP/Getty Images
Hillary Clinton At The Presidential Debate Was Basically All Women In The Workplace
All eyes were on Hillary Clinton and Donald Trump during the first presidential debate on Monday night. While the pressing issues were the spotlight of the event, viewers definitely noticed an unsettling and familiar dynamic, played out on stage. For example, when Trump interrupted Clinton at least three times within the first five minutes of the debate, women took to social media to point out the same common behavior they experience at the hands of their male colleagues. Sadly, Clinton at the debate was basically all women in the workplace, because what she dealt with on stage is something thousands of women deal with every day.
After the debate, Trump has been dubbed the "manterruptor" on social media for his repeatedly and abruptly interrupting Clinton during Monday night's debate at Hofstra University in New York.
Vox reported that in the first 26 minutes of the debate alone, Trump had interrupted Clinton 25 times, 70 times throughout the entire debate.
According to the Huffington Post, "manterrupting" is the "unnecessary interruption of a woman by a man," as defined by Jessica Bennett, journalist and author Feminist Fight Club. The far too common phenomenon is something that women in the workplace are unfortunately familiar with.
But, Clinton didn't miss a beat or seem flustered by Trump's incessant interruptions. All of which did not go unnoticed on social media:
According to a 2014 study published in the Journal of Language and Social Psychology, women are much more likely to be interrupted by a man than men are ― which was seen in real life on Monday night at the first presidential debate.
Despite how Trump's performance interfered with Clinton's at the debate, the Democratic nominee's presence alone was significantly historic. Since the first presidential debate in 1960 between Richard Nixon and John F. Kennedy, the former Secretary of State was the first woman on a presidential debate stage for a major party.
She was well-prepared for any Trump persona that was thrown at her and it showed. With a sly smile and refusing to acknowledge his behavior, Clinton brushed off any everyday version of sexism he wanted to see if she could handle on stage.
What was seen on stage was surely problematic, but support all over social media showed that no matter how much of a chauvinistic bully Trump wants to be, Clinton is prepared to handle men like him, and has been for the majority of her life.