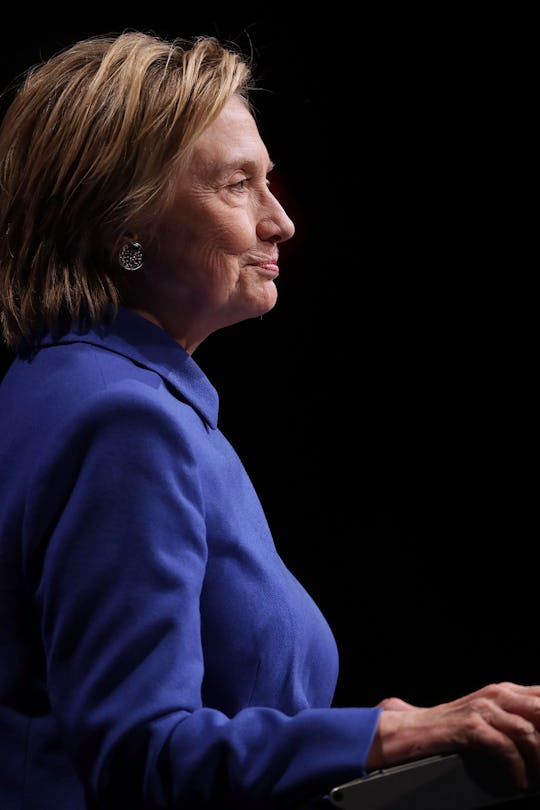 Chip Somodevilla/Getty Images News/Getty Images
Hillary Clinton Believes The Future Is Female
In a message for the women's storytelling platform MAKERS on Monday, 2016 Democratic presidential candidate and former Secretary of State Hillary Clinton said she believes "the future is female," delivering a powerful message to women everywhere that their work and goals were important and impactful. It was the first major taped statement Clinton had made since conceding the election to President Trump in November 2016, though not her first major appearance. The taped statement, released Monday evening by MAKERS, comes on the heels of Clinton's appearance at the inauguration on Jan. 20, an emotional day for her and so many other women who had bet on her to win the presidency.
The video statement made its debut at the 2017 MAKERS Conference, which this year is being held from Feb. 6-8. In it, Clinton addressed the theme of the conference, #BEBOLD, which, according to the MAKERS site, aims to "elevate the conversation and raise challenges and solutions through action-oriented sessions" as well as "shine a light on issues ranging from violence against women to inclusion of men — ultimately creating a bold agenda that flips the script and creates lasting impact."
"I'm proud to be a MAKER and to support MAKER's mission to share women's stories and celebrate women's roles in the past, present, and future of our country," Clinton stated in the video, which has since been widely shared on social media. "Despite all the challenges we face, I remain convinced that, yes, the future is female."
Clinton noted the global impact made by the Women's March on Washington, and its sister marches across the world. "Look at the amazing energy we saw last month, as women organized a march that galvanized millions of people all over our country and across the world," she said. "Now, more than ever, we need to stay focused on the theme of this year's conference: Be bold."
Clinton continued,
We need strong women to step up and speak out. We need you to dare greatly and lead boldly. So please, set an example for every woman and girl out there who's worried about what the future holds, and wonders whether our rights, opportunities, and values will endure. And remember: You are the heroes and history-makers, the glass ceiling-breakers of the future.
As I've said before, I'll say again: Never doubt that you are valuable and powerful and deserving of every chance and opportunity in the world. So, thank you, MAKERS.
If you were looking for a reason to get inspired and get active in this new and divisive era of politics, consider Clinton's MAKERS statement your call to arms.