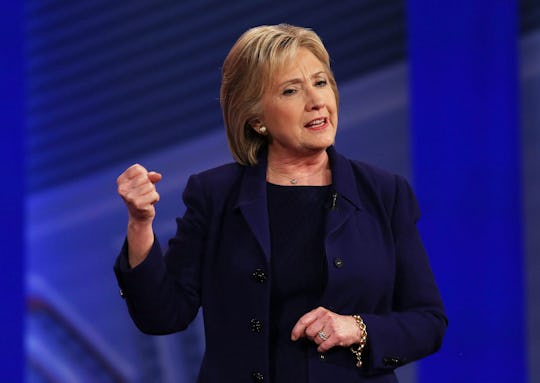 Justin Sullivan/Getty Images
Hillary Clinton & Bernie Sanders' Democratic Debate Stand-Off Was Seriously Intense
Former Secretary of State Hillary Clinton and Sen. Bernie Sanders finally got a chance to face off one-one-one during Thursday's MSNBC Democratic debate, and the Clinton-Sanders exchanges got seriously intense at times. The two spent most of the evening firing shots at each other about Sanders' progressive street cred and Clinton's "establishment" ties among other things. But it was Sanders' mention of Clinton's cozy relationship with Wall Street which caused Clinton to clap back, saying it was nothing more than an "artful smear" in a campaign that Sanders had vowed would be about policy positions rather than personal attacks.
While the initial attack seemed to go off without a hitch, Clinton's anger over Sanders' critique of her acceptance of more than half a million dollars from Wall Street powerhouse Goldman Sachs for speaker's fees seemed to backfire as the conversation went on, drawing boos from the crowd at one point.
It still wasn't enough to get Clinton to back down. The former Secretary of State, who is behind in the New Hampshire primary polls, needs to score a decisive victory against Sanders to have any hope of moving the poll numbers in her favor. It's tough for Clinton to stake out a position to the left of Sanders on anything other than guns. In fact, Clinton got pummeled during the CNN Town Hall on Wednesday when she fumbled a question about why she accepted more than $675,000 from Goldman Sachs for a single speech, unwisely replying, "That's what they offered." And so her next best line of attack on Thursday was to question the motive of the question itself.
And so, Clinton turned to Sanders to redirect her attack. "If you've got something to say, say it directly," she said, practically daring Sanders to accuse her of being somehow impartial when it came to Wall Street. Sanders declined. In that moment, it became clear, Clinton had showed up ready for a fight.