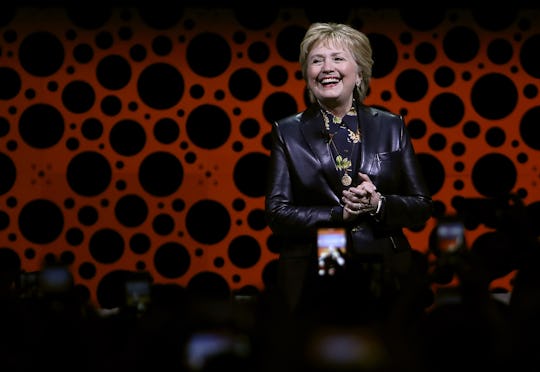 Justin Sullivan/Getty Images News/Getty Images
Clinton Calls Out Attacks On Maxine Waters & April Ryan
During Tuesday's daily press briefing, White House Press Secretary Sean Spicer lashed out at veteran journalist April Ryan after she asked about the murder of Timothy Caughman. Mere hours earlier, Fox News host Bill O'Reilly mocked California State Rep. Maxine Waters' hair by comparing it a "James Brown wig." These racist and sexist attacks on two prominent black women had people steaming, including former Secretary of State Hillary Clinton, who called out attacks on Maxine Waters as well as Spicer's terrible exchange with April Ryan on Tuesday afternoon. Clinton's message: Sexism and racism follow every woman everywhere, and we cannot forget that.
According to The Washington Post, Clinton was speaking at the 28th annual Professional BusinessWomen of California conference in downtown San Francisco on Tuesday when she addressed the two separate — but ultimately connected — incidents. During her keynote, Clinton told the packed room at the San Francisco Marriott Marquis, "Everyday sexism and structural barriers were once blatant. Today, they're sometimes harder to spot. Make no mistake, they're still with us."
She continued,
Just look at all that's happened in the last few days to women who were simply doing their job. April Ryan, a respected journalist with unrivaled integrity, was doing her job just this afternoon in the White House press room when she was patronized and cut off trying to ask a question. One of your own California congresswomen, Maxine Waters, was taunted with a racist joke about her hair. Now too many women, especially women of color, have had a lifetime of practice taking precisely these kinds of indignities in stride. But why should we have to? And any woman who thinks this couldn't be directed at her is living in a dream world.
The attacks started Tuesday morning, when O'Reilly played a clip of a speech delivered on the U.S. House floor on Monday during a Fox & Friends segment. After the clip ended, one of O'Rielly's co-hosts asked what he thought about the speech, to which he infamously replied, "I didn't hear a word she said. I was looking at the James Brown wig," according to USA Today. His co-hosts joined in on O'Reilly's blatantly racist comments, though colleague Ainsley Earnhardt did try to defend Waters by saying the congressperson is "very attractive" (cue sexism).
Hours later, Spicer told Ryan, who has reported on the White House for two decades, to "stop shaking her head" as he performed a daring feat of verbal gymnastics in order to sidestep questions about Caughman's fatal stabbing by white supremacist James Jackson, who was charged with murder as an act of terrorism, according to the New York Daily News. (Jackson's attorney, Sanford Talkin, declined Romper's request for comment.) Ryan wanted to know if the White House condemned the hate crime. "How he treated me wasn't nice, but I still walk with my head up high. This is not a day to be proud of but I have nothing to be ashamed of," Ryan told PEOPLE about the incident.
Later that day, O'Reilly gave a tepid apology for his "joke," but Waters was not having it. In response, she tweeted Tuesday night, "I am a strong black woman. I cannot be intimidated and I'm not going anywhere."
What happened to Waters and Ryan on Tuesday exemplifies what black women have to deal with every day in their professional and personal lives. In response, black women united on Twitter to share their own experiences using the trending hashtag, #BlackWomenAtWork, according to the Detroit News. The tag, started by activist Brittany Packnett, saw contributions from women around the world including former Democratic National Committee Donna Brazile, award-winning director Ava DuVernay, and author and intellectual Melissa Harris-Perry.