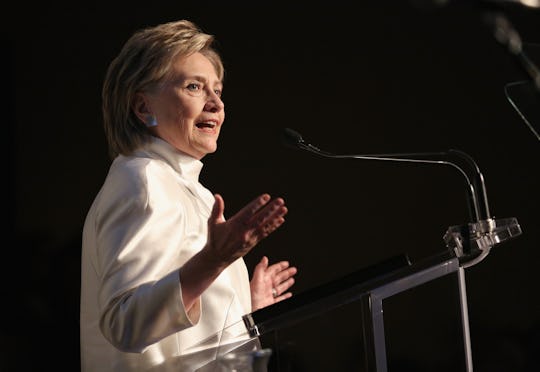 Monica Schipper/Getty Images Entertainment/Getty Images
Hillary Clinton Calls Out Kathy Griffin Critics Who Didn't Condemn Violent Pro-Trump T-Shirts
Former Secretary of State Hillary Clinton has returned to her campaign podcast, With Her, in order to promote her new memoir, What Happened, which was released on Tuesday. Now that the election's over, the former presidential candidate is holding little back, and in the most recent episode, Hillary Clinton calls out a disturbing double standard that's applied to her supporters but not to President Donald Trump's. When comedian Kathy Griffin's posed for a photo with a replica of Trump's head in May, there was a "big kerfuffle," Clinton said, according to The Huffington Post, yet "they were selling T-shirts and mugs at the Republican Convention with Trump holding my head. Nobody said a word. Not a word!"
Clinton has long been outspoken with regards to the blatant gender bias she's been subjected to throughout her career. Still, many refuse to see it, blaming her presidential election loss (and even the virulent hatred directed at her) not on the fact that she's a woman, but on her politics or her personality. Yet there's a certain contingent of Trump supporters who seem unable to express their hatred for Clinton without resorting to blatant misogyny, which makes it hard to believe that it's not one of the contributing factors, if not the sole factor, that they despise her so much.
Indeed, the 2016 Republican National Convention featured a wide variety of anti-Clinton paraphernalia bearing slogans such as "Life's a b*tch, don't vote for one," "Hillary sucks, but not like Monica," and "KFC Hillary Special: 2 fat thighs 2 small breasts ... left wing," according to CNN. The use of the term "b*tch" serves to underscore the idea that Clinton's worst trait is her gender, and insulting her body and referencing a decades-old issue that's completely unrelated to her political career or her character is so far removed from appropriate political convention talking points, I can't even begin to imagine what justification the people who took the time to create and sell such things might have had in mind.
To be fair, there are no shortage of people poking fun at Trump's hair, fingers, and the way he fills out his tennis whites, but rarely are any of these talking points used as a justification for why he's unfit for the presidency. On the other hand, we have people claiming that Clinton is "too stupid to be president" because her husband had an affair over 20 years ago. And I'm not quoting some frog avatar or Russian bot from Twitter; former New York Mayor Rudy Giuliani said that on camera to a journalist at the first presidential debate.
After Griffin shared the photo of herself holding the fake Trump head, the backlash was swift and severe. She posted an apology video almost immediately afterwards, but it wasn't good enough. She lost jobs, she lost friends, and the Secret Service actually investigated her. Meanwhile, you can still order this fetching unisex stars-and-stripes tank top featuring Trump styled as a mythological Greek hero, holding Clinton's screaming head beneath golden letters spelling out "Triumph." It's only $39.95, and it's definitely not a death threat or anything; otherwise the Secret Service — who are still obligated to protect Clinton — surely would have put a stop to it.
And of course, this brand of humor is perfectly aligned with Trump's brand; this is a president who tweeted a video of himself "beating up" an anthropomorphized CNN logo, after all. His supporters will continue to use violent and misogynistic catchphrases and imagery to insult his female adversaries, because he's given them implicit encouragement to do so. And if it ever gets so bad that he's forced to condemn a particular incident, he can always point to Griffin's photo and utter his new favorite catchphrase: "Both sides."