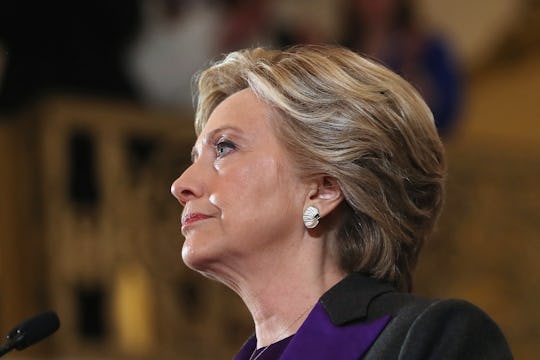 Justin Sullivan/Getty Images News/Getty Images
HRC Says Trump Needs To Address Jewish Community
In recent weeks, there have been a total of 69 known threats at 54 Jewish Community Centers across the country, spreading across 27 states, according to CBS News. On Monday, 11 JCCs received threatening calls, as reported by the Huffington Post. This is a very serious succession of threats in a very short amount of time, and both Jewish organizations and political leaders are speaking out about the Trump Administration's general hesitation to address the issue. In a tweet early Tuesday morning, Hillary Clinton called out Trump's reluctance to decry attacks on Jewish communities, and it's powerful to say the least.
According to the Huffington Post, the latest incidents were reported at Jewish Community Centers in St. Paul, Minnesota; Buffalo and Amherst, New York; Birmingham, Alabama; Houston; Cleveland, Ohio; Whitefish Bay, Wisconsin; Nashville; Albuquerque, New Mexico; Tampa, Florida; and Chicago. For many of these community centers, it wasn't the first threat that's been made in the past few weeks. In addition, WJLA.com, out of Washington D.C., reported that more than 100 headstones at a historic Jewish cemetery were vandalized recently, with reports of the damage coming in Monday morning. All of this has led many to speak out about the threats, and some have been less-than-pleased with the response Trump and the White House have offered.
In a tweet early Tuesday morning, Hillary Clinton stated, "JCC threats, cemetery desecration & online attacks are so troubling & they need to be stopped. Everyone must speak out, starting w/ @POTUS," specifically calling out President Donald Trump and his response to the threats and general rise of anti-Semitic sentiments in recent days.
A White House eventually official put out a statement about the incidents, stating:
Hatred and hate-motivated violence of any kind have no place in a country founded on the promise of individual freedom. The President has made it abundantly clear that these actions are unacceptable.
But many say Trump hasn't said enough, and that the response is too little, too late. Some pointed out that the President's response to the threats hasn't been clear at all, specifically in reference to Trump's handling of a question about the incidents by a Jewish reporter at his press conference last week. Senior Analyst at Whitman Insight Strategies, Matt McDermott, tweeted:
"No, Trump hasn't said threats against Jewish centers 'are unacceptable.' In fact, when asked about it this week he called reporter a liar." In the tweet, he included a side-by-side of the statement released, alongside a quote from an article about the way Trump tackled the question from a Jewish reporter, which said, "In response to a question Thursday about threats to Jewish centers nationwide, Trump called a Jewish reporter a liar, told him to sit down and later said anti-Semitism was coming from 'the other side.'"
Lately, Clinton has only tweeted every couple of days, and she usually is very particular about tweeting specifically about something in the news cycle. The fact that she chose to speak out about these threats, out of everything she could talk about on Twitter, speaks volumes.
Following her loss in the recent presidential election, Clinton is technically a private citizen now. But what she chooses to speak out about and draw attention to is still important, given her vast political experience and lifetime of public service.
The attacks against Jewish Community Centers are appalling, and reminiscent of actions Hitler's regime took prior to the Holocaust, according to Data Scientist Emily Gorcenski on Twitter. Yesterday, she pointed out that, "Vandalism of Jewish cemeteries is literally a form of desecration practiced by the Nazis. This is not hyperbole. It is literal."
In one tweet, Clinton addressed the issue, specifically denounced the threats and grave desecration, and said they need to stop. She also went one step further and implied that the president needs to be more forceful in speaking out against them. It was a necessary statement in the face of terrifying oppression and hate.